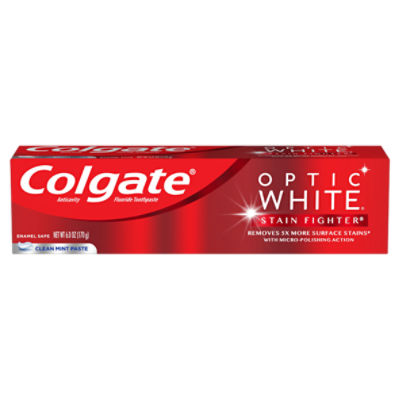 Colgate Optic White Stain Fighter Clean Mint Paste Whitening Toothpaste 6.0 oz
Sale Information
On Sale!
Sales price valid from 1/29/2023 until 2/4/2023
Description
Colgate Optic White Stain Fighter Clean Mint Paste Whitening Toothpaste 6.0 oz Colgate Optic White Stain Fighter is a stain removal whitening toothpaste with micro-polishing action to remove 5X more surface stains*. This Colgate Optic White toothpaste contains clinically proven technology that safely removes surface stains and helps prevent new stains from forming, so your teeth stay whiter longer. *vs. ordinary non whitening toothpaste, after 2 weeks of continued use tooth whitening toothpaste, mint gel toothpaste, gel toothpaste, toothpaste gel, teeth whiteners, stain removers. stain removal toothpaste, cavity protection toothpaste, total toothpaste, charcoal toothpaste, teeth whitening, whitening toothpaste, natural toothpaste, organic toothpaste, spearmint toothpaste, wintergreen toothpaste
Ingredients
Inactive Ingredients: Water, Sorbitol, Hydrated Silica, PEG-12, Sodium Lauryl Sulfate, Flavor, Cellulose Gum, Potassium Hydroxide, Tetrasodium Pyrophosphate, Phosphoric Acid, Cocamidopropyl Betaine, Sodium Saccharin, Benzyl Alcohol, Titanium Dioxide;
Product Number: 00035000472175
Sale Information
On Sale!
Sales price valid from 1/29/2023 until 2/4/2023
Description
Colgate Optic White Stain Fighter Clean Mint Paste Whitening Toothpaste 6.0 oz Colgate Optic White Stain Fighter is a stain removal whitening toothpaste with micro-polishing action to remove 5X more surface stains*. This Colgate Optic White toothpaste contains clinically proven technology that safely removes surface stains and helps prevent new stains from forming, so your teeth stay whiter longer. *vs. ordinary non whitening toothpaste, after 2 weeks of continued use tooth whitening toothpaste, mint gel toothpaste, gel toothpaste, toothpaste gel, teeth whiteners, stain removers. stain removal toothpaste, cavity protection toothpaste, total toothpaste, charcoal toothpaste, teeth whitening, whitening toothpaste, natural toothpaste, organic toothpaste, spearmint toothpaste, wintergreen toothpaste
Product Number: 00035000472175
Ingredients
Inactive Ingredients: Water, Sorbitol, Hydrated Silica, PEG-12, Sodium Lauryl Sulfate, Flavor, Cellulose Gum, Potassium Hydroxide, Tetrasodium Pyrophosphate, Phosphoric Acid, Cocamidopropyl Betaine, Sodium Saccharin, Benzyl Alcohol, Titanium Dioxide;
Product Number: 00035000472175