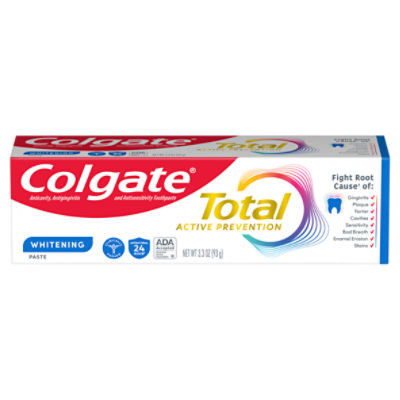 Colgate Total Whitening Toothpaste Paste, 3.3 oz
Sale Information
On Sale!
Sale price valid from 2/3/2023 until 2/9/2023
Description
Colgate Total Whitening Toothpaste, 3.3 oz Anticavity, Antigingivitis and Antisensitivity Toothpaste Whole mouth health* Protects ✓ Teeth ✓ Tongue ✓ Cheeks ✓ Gums *Helps reduce plaque that leads to gingivitis; fortifies enamel; helps relieve sensitivity with continued use. Not intended for prevention or treatment of more serious oral conditions. This Colgate product is specially formulated to help prevent staining. Uses • aids in the prevention of cavities • helps prevent gingivitis • helps interfere with harmful effects of plaque associated with gingivitis • builds increasing protection against painful sensitivity of the teeth to cold, heat, acids, sweets, or contact Drug Facts Active ingredient - Purposes Stannous fluoride 0.454% (0.15% w/v fluoride ion) - Anticavity, antigingivitis, antisensitivity
Ingredients
Inactive Ingredients: Water, Sorbitol, Hydrated Silica, Glycerin, PEG-12, Tetrasodium Pyrophosphate, Sodium Lauryl Sulfate, Flavor, Microcrystalline Cellulose, Sodium Citrate, Zinc Phosphate, Cellulose Gum, Sodium Saccharin, Cocamidopropyl Betaine, Propylene Glycol, Xanthan Gum, Citric Acid, Sucralose, Titanium Dioxide;
Product Number: 00035000460462
Sale Information
On Sale!
Sale price valid from 2/3/2023 until 2/9/2023
Description
Colgate Total Whitening Toothpaste, 3.3 oz Anticavity, Antigingivitis and Antisensitivity Toothpaste Whole mouth health* Protects ✓ Teeth ✓ Tongue ✓ Cheeks ✓ Gums *Helps reduce plaque that leads to gingivitis; fortifies enamel; helps relieve sensitivity with continued use. Not intended for prevention or treatment of more serious oral conditions. This Colgate product is specially formulated to help prevent staining. Uses • aids in the prevention of cavities • helps prevent gingivitis • helps interfere with harmful effects of plaque associated with gingivitis • builds increasing protection against painful sensitivity of the teeth to cold, heat, acids, sweets, or contact Drug Facts Active ingredient - Purposes Stannous fluoride 0.454% (0.15% w/v fluoride ion) - Anticavity, antigingivitis, antisensitivity
Product Number: 00035000460462
Ingredients
Inactive Ingredients: Water, Sorbitol, Hydrated Silica, Glycerin, PEG-12, Tetrasodium Pyrophosphate, Sodium Lauryl Sulfate, Flavor, Microcrystalline Cellulose, Sodium Citrate, Zinc Phosphate, Cellulose Gum, Sodium Saccharin, Cocamidopropyl Betaine, Propylene Glycol, Xanthan Gum, Citric Acid, Sucralose, Titanium Dioxide;
Product Number: 00035000460462