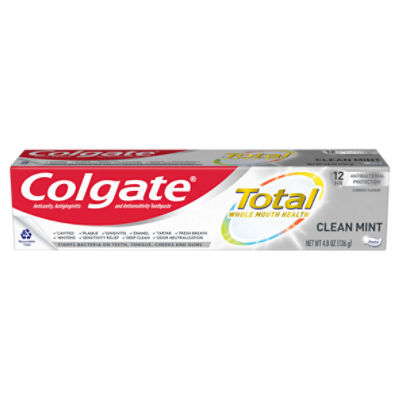 Colgate Total Whole Mouth Health Clean Mint Toothpaste, 4.8 oz
Sale Information
On Sale!
Sales price valid from 1/27/2023 until 2/2/2023
Description
Colgate Total Whole Mouth Health Clean Mint Toothpaste, 4.8 oz Unlike Ordinary Toothpaste, Colgate Total Clean Mint Toothpaste Fights Bacteria on Teeth, Tongue, Cheeks & Gums For Whole Mouth Health. Colgate Total Toothpaste has a breakthrough formula that fights bacteria on teeth, tongue, cheeks and gums for Whole Mouth Health. Colgate Total with stannous fluoride also offers more benefits than ever including sensitivity relief, improved enamel strength* and odor neutralization* (*based on in vitro studies) **Adults and children 12 years of age and older: apply at least a 1-inch strip of product onto a soft bristled toothbrush. Brush teeth thoroughly for at least 1 minute twice a day (morning and evening) or as recommended by a dentist. Make sure to brush all sensitive areas of the teeth. Do not swallow. Children under 12 years of age: consult a dentist. tooth paste, toothpastes, diabetes, gum disease, protection, best whitening, strips, cavity protection, great taste, halitosis, teeth, tooth wash, clean, stain removal, bleach, peroxide, healthy, hydrogen peroxide, affordable, at home, baking soda, bad breath ,easy, fast, home remedies, do it yourself, dental stain removal, over the counter, noticeable, beautiful, long lasting, refreshing, lightens, freshen, keeps, gel, pearly, sensitivity
Ingredients
Inactive Ingredients: Water, Sorbitol, Hydrated Silica, Glycerin, PEG-12, Tetrasodium Pyrophosphate, Sodium Lauryl Sulfate, Flavor, Zinc Phosphate, Cellulose Gum, Sodium Citrate, Microcrystalline Cellulose, Sodium Saccharin, Cocamidopropyl Betaine, Propylene Glycol, Xanthan Gum, Citric Acid, Sucralose, Titanium Dioxide;
Product Number: 00035000463777
Sale Information
On Sale!
Sales price valid from 1/27/2023 until 2/2/2023
Description
Colgate Total Whole Mouth Health Clean Mint Toothpaste, 4.8 oz Unlike Ordinary Toothpaste, Colgate Total Clean Mint Toothpaste Fights Bacteria on Teeth, Tongue, Cheeks & Gums For Whole Mouth Health. Colgate Total Toothpaste has a breakthrough formula that fights bacteria on teeth, tongue, cheeks and gums for Whole Mouth Health. Colgate Total with stannous fluoride also offers more benefits than ever including sensitivity relief, improved enamel strength* and odor neutralization* (*based on in vitro studies) **Adults and children 12 years of age and older: apply at least a 1-inch strip of product onto a soft bristled toothbrush. Brush teeth thoroughly for at least 1 minute twice a day (morning and evening) or as recommended by a dentist. Make sure to brush all sensitive areas of the teeth. Do not swallow. Children under 12 years of age: consult a dentist. tooth paste, toothpastes, diabetes, gum disease, protection, best whitening, strips, cavity protection, great taste, halitosis, teeth, tooth wash, clean, stain removal, bleach, peroxide, healthy, hydrogen peroxide, affordable, at home, baking soda, bad breath ,easy, fast, home remedies, do it yourself, dental stain removal, over the counter, noticeable, beautiful, long lasting, refreshing, lightens, freshen, keeps, gel, pearly, sensitivity
Product Number: 00035000463777
Ingredients
Inactive Ingredients: Water, Sorbitol, Hydrated Silica, Glycerin, PEG-12, Tetrasodium Pyrophosphate, Sodium Lauryl Sulfate, Flavor, Zinc Phosphate, Cellulose Gum, Sodium Citrate, Microcrystalline Cellulose, Sodium Saccharin, Cocamidopropyl Betaine, Propylene Glycol, Xanthan Gum, Citric Acid, Sucralose, Titanium Dioxide;
Product Number: 00035000463777