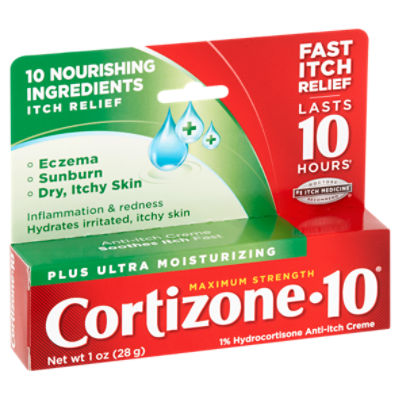 Cortizone-10 Maximum Strength, Anti-Itch Creme, 1 Ounce
Sale Information
On Sale!
Sales price valid from 12/2/2022 until 12/8/2022
Description
Cortizone-10 Maximum Strength Anti-Itch Creme, 1 oz 1% Hydrocortisone Anti-Itch Creme Lasts 10 hours† †When used as directed. Doctors #1 Itch Medicine* Recommend® *Refers to the ingredient hydrocortisone Uses ■ temporarily relieves itching associated with minor skin irritations, inflammation, and rashes due to: ■ eczema ■ psoriasis ■ poison ivy, oak, sumac ■ insect bites ■ detergents ■ jewelry ■ cosmetics ■ soaps ■ seborrheic dermatitis ■ temporarily relieves pain and itching associated with sunburn ■ temporarily relieves external anal and genital itching ■ other uses of this product should only be under the advice and supervision of a doctor Drug Facts Active ingredient - Purpose Hydrocortisone 1% - Anti-itch
Ingredients
Inactive ingredients: Water, Cetearyl Alcohol, Glycerin, Petrolatum, Mineral Oil, Isopropyl Palmitate, Sodium Lauryl Sulfate, Beeswax, Sodium Cetearyl Sulfate, Methylparaben, Tocopheryl Acetate, Propylparaben, Propylene Glycol, Cetyl Alcohol, Aluminum Sulfate, Calcium Acetate, Dextrin, Zea Mays (Corn) Oil, Cholecalciferol, Retinyl Palmitate, Aloe Barbadensis Leaf Juice, Maltodextrin (309-071);
Product Number: 00041167010563
Sale Information
On Sale!
Sales price valid from 12/2/2022 until 12/8/2022
Description
Cortizone-10 Maximum Strength Anti-Itch Creme, 1 oz 1% Hydrocortisone Anti-Itch Creme Lasts 10 hours† †When used as directed. Doctors #1 Itch Medicine* Recommend® *Refers to the ingredient hydrocortisone Uses ■ temporarily relieves itching associated with minor skin irritations, inflammation, and rashes due to: ■ eczema ■ psoriasis ■ poison ivy, oak, sumac ■ insect bites ■ detergents ■ jewelry ■ cosmetics ■ soaps ■ seborrheic dermatitis ■ temporarily relieves pain and itching associated with sunburn ■ temporarily relieves external anal and genital itching ■ other uses of this product should only be under the advice and supervision of a doctor Drug Facts Active ingredient - Purpose Hydrocortisone 1% - Anti-itch
Product Number: 00041167010563
Ingredients
Inactive ingredients: Water, Cetearyl Alcohol, Glycerin, Petrolatum, Mineral Oil, Isopropyl Palmitate, Sodium Lauryl Sulfate, Beeswax, Sodium Cetearyl Sulfate, Methylparaben, Tocopheryl Acetate, Propylparaben, Propylene Glycol, Cetyl Alcohol, Aluminum Sulfate, Calcium Acetate, Dextrin, Zea Mays (Corn) Oil, Cholecalciferol, Retinyl Palmitate, Aloe Barbadensis Leaf Juice, Maltodextrin (309-071);
Product Number: 00041167010563