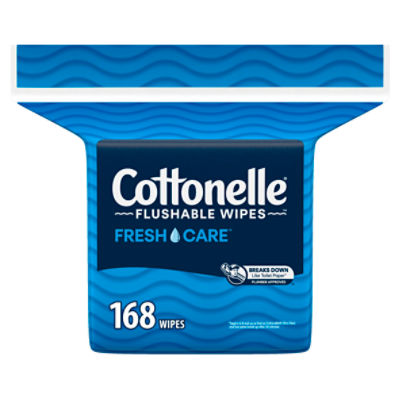 Cottonelle Flushable Wipes Refill Pack, 168 count
$9.49
was $10.99
$0.06 each
Sale Information
On Sale!
Sale price valid from 1/29/2023 until 2/4/2023
Description
Cottonelle Flushable Wipes Refill Pack, 168 count Freshen up with hypoallergenic and plastic-free Cottonelle Fresh Care Flushable Wet Wipes, the #1 septic-safe wipes brand* and official wipes of pipes. With Cottonelle Fresh Care Flushable Wet Wipes, you get 1 pack of 168 adult wipes, so you have plenty of body wipes for you and your loved ones. And you can count on keeping those pipes unclogged—our flushable travel wipes break down like toilet paper** and 4x faster*** than other flushable wipes. Plus, Cottonelle Flushable Wipes are compliant with IWSFG 2020, designed for toilets and tested with plumbers. Our wipes are even free of parabens, alcohol and MIT and have no harsh chemicals, dyes or plastic fibers, so your comfort is truly worry-free. Get more out of a wipe that's safe for sensitive skin and washes away odor-causing mess by using with Cottonelle Toilet Paper for the ultimate in fresh and clean feeling‡! Wondering if our bathroom flushable wipes are sustainable? Good news! Our eco-friendly‡‡ plastic-free flushable wipes use 100% biodegradable fibers and meet strict standards to protect forests and the animals and people that depend on them, so you can feel ahhh-mazing whenever you buy Cottonelle. *among national brands **loses majority of strength within 30 minutes of flushing ***vs. national leading brands based on strength loss testing ‡using dry + moist together vs. dry alone ‡‡Fibers 100% biodegradable
Ingredients
Water/Aqua; Sodium Chloride; Butoxy PEG-4 PG-Amodimethicone; Polysorbate 20; Caprylyl Glycol; Sodium Benzoate; Coco-Betaine; Malic Acid; Fragrance; Sodium Citrate;
Product Number: 00036000103588
Sale Information
On Sale!
Sale price valid from 1/29/2023 until 2/4/2023
Description
Cottonelle Flushable Wipes Refill Pack, 168 count Freshen up with hypoallergenic and plastic-free Cottonelle Fresh Care Flushable Wet Wipes, the #1 septic-safe wipes brand* and official wipes of pipes. With Cottonelle Fresh Care Flushable Wet Wipes, you get 1 pack of 168 adult wipes, so you have plenty of body wipes for you and your loved ones. And you can count on keeping those pipes unclogged—our flushable travel wipes break down like toilet paper** and 4x faster*** than other flushable wipes. Plus, Cottonelle Flushable Wipes are compliant with IWSFG 2020, designed for toilets and tested with plumbers. Our wipes are even free of parabens, alcohol and MIT and have no harsh chemicals, dyes or plastic fibers, so your comfort is truly worry-free. Get more out of a wipe that's safe for sensitive skin and washes away odor-causing mess by using with Cottonelle Toilet Paper for the ultimate in fresh and clean feeling‡! Wondering if our bathroom flushable wipes are sustainable? Good news! Our eco-friendly‡‡ plastic-free flushable wipes use 100% biodegradable fibers and meet strict standards to protect forests and the animals and people that depend on them, so you can feel ahhh-mazing whenever you buy Cottonelle. *among national brands **loses majority of strength within 30 minutes of flushing ***vs. national leading brands based on strength loss testing ‡using dry + moist together vs. dry alone ‡‡Fibers 100% biodegradable
Product Number: 00036000103588
Ingredients
Water/Aqua; Sodium Chloride; Butoxy PEG-4 PG-Amodimethicone; Polysorbate 20; Caprylyl Glycol; Sodium Benzoate; Coco-Betaine; Malic Acid; Fragrance; Sodium Citrate;
Product Number: 00036000103588