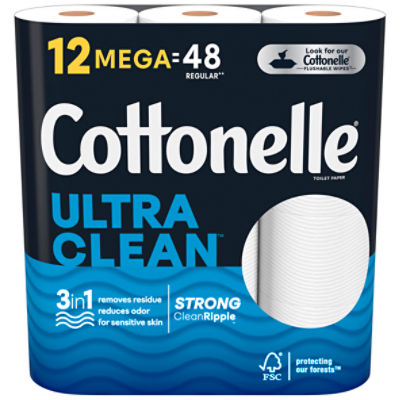 Cottonelle Ultra Clean Strong Mega Rolls Toilet Paper, 12 count
$22.49
was $22.99
$0.60 each
Sale Information
On Sale!
Sales price valid from 1/27/2023 until 2/2/2023
Description
Cottonelle Ultra Clean Strong Mega Rolls Toilet Paper, 12 countnDiscover the power of all day fresh feeling with Cottonelle Ultra Clean Toilet Paper. With Cottonelle Ultra Clean Toilet Paper, you get 12 Mega Rolls of 312 sheets, so you have plenty of toilet paper for you and your loved ones. Our septic-safe, 1-ply toilet tissue paper is 3x stronger** and 2x more absorbent** for a superior clean***. Our toilet tissue rolls are even conveniently designed to fit standard roll holders and each Mega Roll lasts 4x longer than the leading brand's regular roll. Plus, our bath tissue toilet paper is free of added perfumes and dyes and paraben-free. Use with Cottonelle Flushable Wipes to feel shower fresh! If you love how Cottonelle delivers a confident clean, this is the size for you: Stock up and save with Cottonelle bulk toilet paper. Wondering if our bathroom toilet paper is sustainable? Good news! Our biodegradable bathroom tissue paper is sourced from responsibly managed forests and made with water and renewable plant-based fibers, so you can feel ahhh-mazing whenever you buy Cottonelle. *vs. leading value brand regular rolls **vs. leading value brand ***per sheet vs. leading value brand
Product Number: 00036000541519
Sale Information
On Sale!
Sales price valid from 1/27/2023 until 2/2/2023
Description
Cottonelle Ultra Clean Strong Mega Rolls Toilet Paper, 12 countnDiscover the power of all day fresh feeling with Cottonelle Ultra Clean Toilet Paper. With Cottonelle Ultra Clean Toilet Paper, you get 12 Mega Rolls of 312 sheets, so you have plenty of toilet paper for you and your loved ones. Our septic-safe, 1-ply toilet tissue paper is 3x stronger** and 2x more absorbent** for a superior clean***. Our toilet tissue rolls are even conveniently designed to fit standard roll holders and each Mega Roll lasts 4x longer than the leading brand's regular roll. Plus, our bath tissue toilet paper is free of added perfumes and dyes and paraben-free. Use with Cottonelle Flushable Wipes to feel shower fresh! If you love how Cottonelle delivers a confident clean, this is the size for you: Stock up and save with Cottonelle bulk toilet paper. Wondering if our bathroom toilet paper is sustainable? Good news! Our biodegradable bathroom tissue paper is sourced from responsibly managed forests and made with water and renewable plant-based fibers, so you can feel ahhh-mazing whenever you buy Cottonelle. *vs. leading value brand regular rolls **vs. leading value brand ***per sheet vs. leading value brand
Product Number: 00036000541519
Product Number: 00036000541519