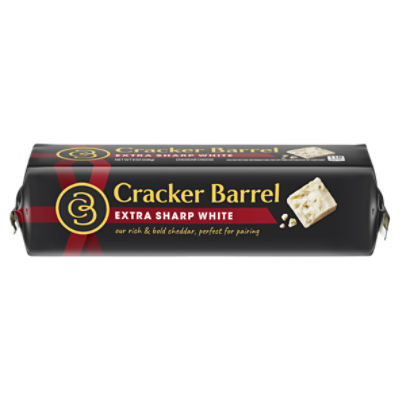 Cracker Barrel Extra Sharp White Cheddar, Cheese, 8 Ounce
Sale Information
On Sale!
Sales price valid from 12/4/2022 until 12/10/2022
Description
Cracker Barrel Extra Sharp White Cheddar Cheese, 8 oz Block Cracker Barrel Extra Sharp White Cheddar Cheese Block is a deliciously different cheddar. Creamy and bold, this extra sharp white cheddar is crafted by experts whose passion for cheese made this cheddar a medalist in the U.S. Championship Cheese Contest. Made with milk, this extra sharp cheddar has the smooth texture and intense flavor that you seek in a true cheddar. Slice this 8 ounce block to top on crackers and apple slices, or serve the smooth cheese with a glass of Cabernet Sauvignon to bring out the vintage's dark red fruit flavors. This extra sharp cheddar cheese block can also be grated for use in recipes that call for intense flavor, such as cheese straws or a cheddar crust apple pie. Packaged in a sealed wrapper. • One 8 oz. Cracker Barrel Extra Sharp White Cheddar Cheese Block • Cheddar cheese from Cracker Barrel, the makers of award-winning cheese • Extra sharp white cheddar for bold flavor and creamy texture • Chunk shape lets you slice cheese to your preferred thickness • Made with milk for rich flavor • Slice to serve on crackers and toasted baguettes, or grate to melt over entrees • 110 calories per serving • Refrigerate after opening and use within 5 days
Ingredients
Pasteurized Milk; Cheese Culture; Salt; Enzymes; Natamycin (a natural mold inhibitor);
Nutrition Facts
8 servings pr container
Product Number: 00021000009046
Sale Information
On Sale!
Sales price valid from 12/4/2022 until 12/10/2022
Description
Cracker Barrel Extra Sharp White Cheddar Cheese, 8 oz Block Cracker Barrel Extra Sharp White Cheddar Cheese Block is a deliciously different cheddar. Creamy and bold, this extra sharp white cheddar is crafted by experts whose passion for cheese made this cheddar a medalist in the U.S. Championship Cheese Contest. Made with milk, this extra sharp cheddar has the smooth texture and intense flavor that you seek in a true cheddar. Slice this 8 ounce block to top on crackers and apple slices, or serve the smooth cheese with a glass of Cabernet Sauvignon to bring out the vintage's dark red fruit flavors. This extra sharp cheddar cheese block can also be grated for use in recipes that call for intense flavor, such as cheese straws or a cheddar crust apple pie. Packaged in a sealed wrapper. • One 8 oz. Cracker Barrel Extra Sharp White Cheddar Cheese Block • Cheddar cheese from Cracker Barrel, the makers of award-winning cheese • Extra sharp white cheddar for bold flavor and creamy texture • Chunk shape lets you slice cheese to your preferred thickness • Made with milk for rich flavor • Slice to serve on crackers and toasted baguettes, or grate to melt over entrees • 110 calories per serving • Refrigerate after opening and use within 5 days
Product Number: 00021000009046
Ingredients
Pasteurized Milk; Cheese Culture; Salt; Enzymes; Natamycin (a natural mold inhibitor);
Nutrition Facts
8 servings pr container
Product Number: 00021000009046