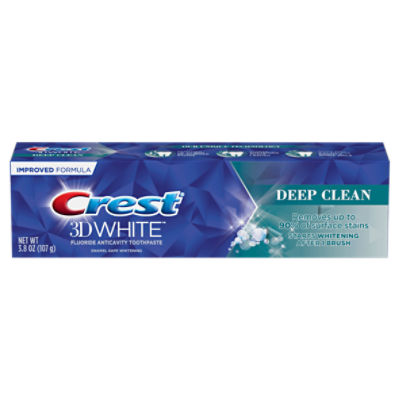 Crest 3D White Deep Clean, Teeth Whitening Toothpaste, 3.8 oz
Sale Information
On Sale!
Sale price valid from 2/3/2023 until 2/9/2023
Description
Crest 3D White Deep Clean, Teeth Whitening Toothpaste, 3.8 oz Brighten your smile with Crest 3D White Deep Clean Whitening Toothpaste. The New and Improved Formula removes up to 90% of surface stains, protects against future stains & starts whitening your teeth after 1 brush. 3D White fluoride toothpaste also strengthens your tooth enamel and helps protect against cavities. Fluoride Anticavity Toothpaste Our Unique Technology Removes Up to 90% of Surface Stains Starts Whitening After 1 Brush Gives You a Flawless Bright & White Smile Drug Facts Active ingredients - Purpose Sodium fluoride 0.243% (0.15% w/v fluoride ion) - Anticavity toothpaste Use Helps protect against cavities
Ingredients
Inactive Ingredients: Water, Sorbitol, Hydrated Silica, Disodium Pyrophosphate, Sodium Lauryl Sulfate, Flavor, Sodium Hydroxide, Cellulose Gum, Sodium Saccharin, Carbomer, Polysorbate 80, Mica, Titanium Dioxide, Blue 1;
Product Number: 00037000841210
Sale Information
On Sale!
Sale price valid from 2/3/2023 until 2/9/2023
Description
Crest 3D White Deep Clean, Teeth Whitening Toothpaste, 3.8 oz Brighten your smile with Crest 3D White Deep Clean Whitening Toothpaste. The New and Improved Formula removes up to 90% of surface stains, protects against future stains & starts whitening your teeth after 1 brush. 3D White fluoride toothpaste also strengthens your tooth enamel and helps protect against cavities. Fluoride Anticavity Toothpaste Our Unique Technology Removes Up to 90% of Surface Stains Starts Whitening After 1 Brush Gives You a Flawless Bright & White Smile Drug Facts Active ingredients - Purpose Sodium fluoride 0.243% (0.15% w/v fluoride ion) - Anticavity toothpaste Use Helps protect against cavities
Product Number: 00037000841210
Ingredients
Inactive Ingredients: Water, Sorbitol, Hydrated Silica, Disodium Pyrophosphate, Sodium Lauryl Sulfate, Flavor, Sodium Hydroxide, Cellulose Gum, Sodium Saccharin, Carbomer, Polysorbate 80, Mica, Titanium Dioxide, Blue 1;
Product Number: 00037000841210