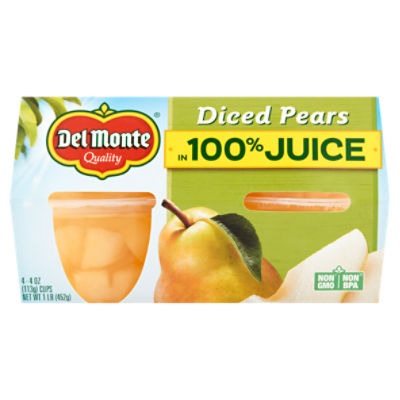 Del Monte Diced in 100% Juice, Pears, 16 Ounce
Sale Information
On Sale!
Sales price valid from 12/2/2022 until 12/8/2022
Description
Del Monte Diced Pears in 100% Juice, 4 oz, 4 count Non GMO† † Ingredients of the types used in this product are not genetically modified Non BPA†† †† Packaging produced without the intentional addition of BPA Serving Up Our Garden's Best Sun-Sweetened Goodness Our Bartlett pears are grown in the best soils, producing fruit with a delicate sweetness and just the right firmness. Tasty Nutrition in Every Bite Packed to capture the flavor and nutrients your family craves. Delicious to Go With breakfast, on-the-go or as a lunchbox favorite—a great way to add a serving of fruit to your day. One Serving of fruit** **Each container has 1 serving (1/2 cup) fruit per USDA Nutrient Data
Ingredients
Pears; White Grape Juice (Water, White Grape Juice Concentrate); Ascorbic Acid; Natural Flavor; Lemon Juice Concentrate;
Nutrition Facts
4 servings pr container
Product Number: 00024000393443
Sale Information
On Sale!
Sales price valid from 12/2/2022 until 12/8/2022
Description
Del Monte Diced Pears in 100% Juice, 4 oz, 4 count Non GMO† † Ingredients of the types used in this product are not genetically modified Non BPA†† †† Packaging produced without the intentional addition of BPA Serving Up Our Garden's Best Sun-Sweetened Goodness Our Bartlett pears are grown in the best soils, producing fruit with a delicate sweetness and just the right firmness. Tasty Nutrition in Every Bite Packed to capture the flavor and nutrients your family craves. Delicious to Go With breakfast, on-the-go or as a lunchbox favorite—a great way to add a serving of fruit to your day. One Serving of fruit** **Each container has 1 serving (1/2 cup) fruit per USDA Nutrient Data
Product Number: 00024000393443
Ingredients
Pears; White Grape Juice (Water, White Grape Juice Concentrate); Ascorbic Acid; Natural Flavor; Lemon Juice Concentrate;
Nutrition Facts
4 servings pr container
Product Number: 00024000393443