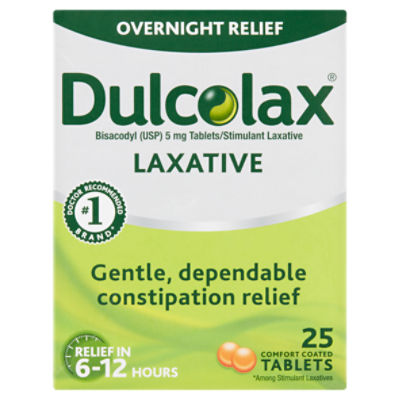 Dulcolax Laxative, Tablets, 25 Each
Sale Information
On Sale!
Sales price valid from 11/27/2022 until 12/3/2022
Description
Dulcolax Laxative Tablets, 25 count Comfort Coated Tablets Dulcolax® Tablets are convenient to use overnight, or whenever you need effective relief from constipation. Easy-to-swallow, comfort coated Dulcolax® Tablets are gentle enough for sensitive stomachs, yet strong enough for effective overnight relief. Trust Dulcolax® Tablets to relieve constipation in 6 to 12 hours. Use • for relief of occasional constipation and irregularity • this product generally produces bowel movement in 6 to 12 hours Drug Facts Active ingredient (in each tablet) - Purpose Bisacodyl (USP) 5 mg - Stimulant laxative
Ingredients
Inactive Ingredients: Acacia Senegal Gum, Ammonium Hydroxide, Calcium Carbonate, Carnauba Wax, Colloidal Anhydrous Silica, Corn Starch, D&C Yellow #10 Aluminum Lake, FD&C Yellow #6 Aluminum Lake, Hypromellose, Iron Oxides, Lactose, Magnesium Stearate, Methylparaben, Polydextrose, Polyethylene Glycol, Polyvinyl Acetate Phthalate, Povidone, Propylene Glycol, Propylparaben, Shellac, Simethicone, Sodium Alginate, Sodium Benzoate, Sodium Bicarbonate, Stearic Acid, Sucrose, Talc, Titanium Dioxide, Triacetin, Triethyl Citrate;
Nutrition Facts
servings pr container
Product Number: 00681421020022
Sale Information
On Sale!
Sales price valid from 11/27/2022 until 12/3/2022
Description
Dulcolax Laxative Tablets, 25 count Comfort Coated Tablets Dulcolax® Tablets are convenient to use overnight, or whenever you need effective relief from constipation. Easy-to-swallow, comfort coated Dulcolax® Tablets are gentle enough for sensitive stomachs, yet strong enough for effective overnight relief. Trust Dulcolax® Tablets to relieve constipation in 6 to 12 hours. Use • for relief of occasional constipation and irregularity • this product generally produces bowel movement in 6 to 12 hours Drug Facts Active ingredient (in each tablet) - Purpose Bisacodyl (USP) 5 mg - Stimulant laxative
Product Number: 00681421020022
Ingredients
Inactive Ingredients: Acacia Senegal Gum, Ammonium Hydroxide, Calcium Carbonate, Carnauba Wax, Colloidal Anhydrous Silica, Corn Starch, D&C Yellow #10 Aluminum Lake, FD&C Yellow #6 Aluminum Lake, Hypromellose, Iron Oxides, Lactose, Magnesium Stearate, Methylparaben, Polydextrose, Polyethylene Glycol, Polyvinyl Acetate Phthalate, Povidone, Propylene Glycol, Propylparaben, Shellac, Simethicone, Sodium Alginate, Sodium Benzoate, Sodium Bicarbonate, Stearic Acid, Sucrose, Talc, Titanium Dioxide, Triacetin, Triethyl Citrate;
Nutrition Facts
servings pr container
Product Number: 00681421020022