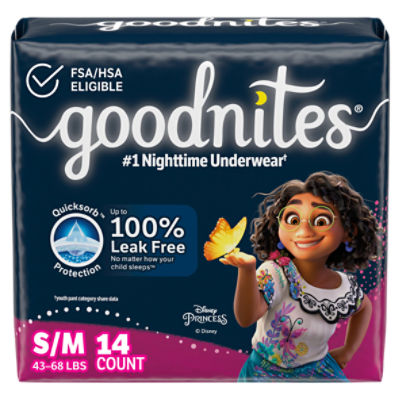 Goodnites Girls' Nighttime Bedwetting Underwear, S/M (43-68 lb.), 14 Ct
$13.29
was $13.79
$0.95 each
Sale Information
On Sale!
Sale price valid from 2/3/2023 until 2/9/2023
Description
Goodnites Girls' Nighttime Bedwetting Underwear, S/M (43-68 lb.), 14 Ct Keep your child dry and worry free with the #1 Nighttime Underwear* for bedwetting. Goodnites provide our best fit and protection guaranteed** for kids age 3 and up. These disposable bedwetting pants feature 5 Layer Protection to absorb & lock away wetness and reinforced, Double Leg Barriers to help eliminate leaks. Our most comfortable nighttime protection, Goodnites also feature a super stretchy waistband for an underwear like fit that accommodates all body shapes. Unlike training pants, Goodnites bedwetting underwear discreetly absorb odor and offer 40% more protection vs. the leading training pant. Plus, your child will love going to bed wearing her favorite Disney princess designs. Goodnites Girls' Bedwetting Underwear offer more sizes for a comfortable, tailored fit up to 140+ lb. and are available in Size XS (28-43 lb.), S/M (43-68 lb.), L (68-95 lb.), and XL (95-140+ lb.). FSA/HSA-eligible in the U.S. (*Youth Pant category share data) (**See Goodnites website for details)
Product Number: 00036000413144
Sale Information
On Sale!
Sale price valid from 2/3/2023 until 2/9/2023
Description
Goodnites Girls' Nighttime Bedwetting Underwear, S/M (43-68 lb.), 14 Ct Keep your child dry and worry free with the #1 Nighttime Underwear* for bedwetting. Goodnites provide our best fit and protection guaranteed** for kids age 3 and up. These disposable bedwetting pants feature 5 Layer Protection to absorb & lock away wetness and reinforced, Double Leg Barriers to help eliminate leaks. Our most comfortable nighttime protection, Goodnites also feature a super stretchy waistband for an underwear like fit that accommodates all body shapes. Unlike training pants, Goodnites bedwetting underwear discreetly absorb odor and offer 40% more protection vs. the leading training pant. Plus, your child will love going to bed wearing her favorite Disney princess designs. Goodnites Girls' Bedwetting Underwear offer more sizes for a comfortable, tailored fit up to 140+ lb. and are available in Size XS (28-43 lb.), S/M (43-68 lb.), L (68-95 lb.), and XL (95-140+ lb.). FSA/HSA-eligible in the U.S. (*Youth Pant category share data) (**See Goodnites website for details)
Product Number: 00036000413144
Product Number: 00036000413144