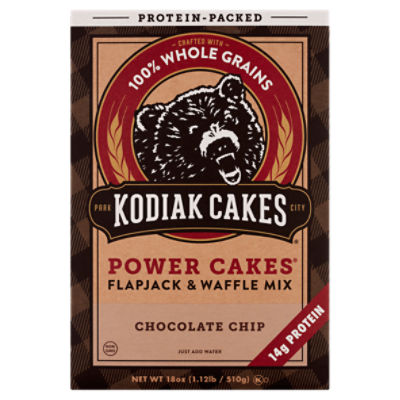 Kodiak Cakes Power Cakes Chocolate Chip Flapjack & Waffle Mix, 18 oz
Sale Information
On Sale!
Sale price valid from 2/3/2023 until 2/9/2023
Description
Kodiak Cakes Power Cakes Chocolate Chip Flapjack & Waffle Mix, 18 oz Restoring the Flapjack Tradition Way back when, lumberjacks and pioneers relied on food packed with protein and essential nutrients from whole grains to get them through long days on the frontier. Though most of us have traded in our axes for laptops, we still crave delicious, nourishing food. Kodiak Cakes® flapjack and waffle mix is meant for those of us who, like the rugged pioneers exploring the untamed wilderness, require nutrition and great taste to successfully navigate today's frontier. Whole Grains Taste Better®
Ingredients
100% Whole Grain Wheat Flour; 100% Whole Grain Oat Flour; Wheat Protein Isolate; Semisweet Chocolate Chips (Sugar, Unsweetened Chocolate, Cocoa Butter, Dextrose, Sunflower Lecithin); Cane Sugar; Whey Protein Concentrate; Milk Protein Concentrate; Leavening (Monocalcium Phosphate, Baking Soda); Buttermilk; Light Molasses (Refinery Syrup, Cane Molasses); Natural Flavor; Sea Salt;
Product Number: 00705599013379
Sale Information
On Sale!
Sale price valid from 2/3/2023 until 2/9/2023
Description
Kodiak Cakes Power Cakes Chocolate Chip Flapjack & Waffle Mix, 18 oz Restoring the Flapjack Tradition Way back when, lumberjacks and pioneers relied on food packed with protein and essential nutrients from whole grains to get them through long days on the frontier. Though most of us have traded in our axes for laptops, we still crave delicious, nourishing food. Kodiak Cakes® flapjack and waffle mix is meant for those of us who, like the rugged pioneers exploring the untamed wilderness, require nutrition and great taste to successfully navigate today's frontier. Whole Grains Taste Better®
Product Number: 00705599013379
Ingredients
100% Whole Grain Wheat Flour; 100% Whole Grain Oat Flour; Wheat Protein Isolate; Semisweet Chocolate Chips (Sugar, Unsweetened Chocolate, Cocoa Butter, Dextrose, Sunflower Lecithin); Cane Sugar; Whey Protein Concentrate; Milk Protein Concentrate; Leavening (Monocalcium Phosphate, Baking Soda); Buttermilk; Light Molasses (Refinery Syrup, Cane Molasses); Natural Flavor; Sea Salt;
Product Number: 00705599013379