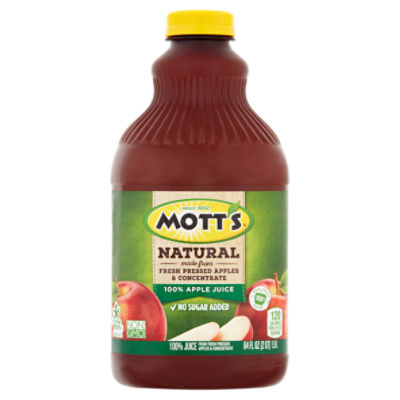 Sale Information
On Sale!
Sales price valid from 11/25/2022 until 12/1/2022
Description
Mott's Natural 100% Apple Juice, 64 fl oz 100% Juice from Fresh Pressed Apples & Concentrate 2 servings of fruit* per 8 fl oz *Provides 2 servings of fruit per 8 fl oz. Current USDA dietary guidelines recommend a daily intake of 2 cups of fruit for a 2,000 calorie diet. 1 serving = 1/2 cup
Ingredients
Apple Juice; Water; Apple Juice Concentrate;
Nutrition Facts
servings pr container
Product Number: 00014800316568
Sale Information
On Sale!
Sales price valid from 11/25/2022 until 12/1/2022
Description
Mott's Natural 100% Apple Juice, 64 fl oz 100% Juice from Fresh Pressed Apples & Concentrate 2 servings of fruit* per 8 fl oz *Provides 2 servings of fruit per 8 fl oz. Current USDA dietary guidelines recommend a daily intake of 2 cups of fruit for a 2,000 calorie diet. 1 serving = 1/2 cup
Product Number: 00014800316568
Ingredients
Apple Juice; Water; Apple Juice Concentrate;
Nutrition Facts
servings pr container
Product Number: 00014800316568