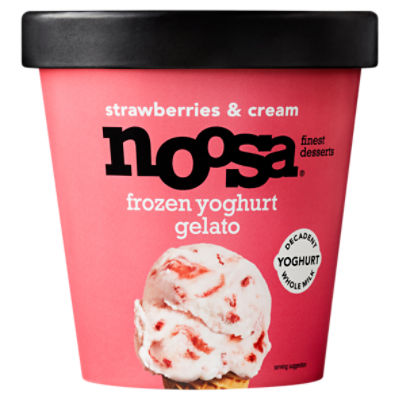 Noosa Strawberries & Cream Gelato, 14 fl oz
$4.49
was $5.99
$0.32/fl oz
Sale Information
On Sale!
Sale price valid from 2/3/2023 until 2/9/2023
Description
Noosa Strawberries & Cream Gelato, 14 fl oz OVER-THE-TOP DECADENT Our extra creamy, oh-so-dreamy yoghurt gelato is here. Velvety smooth frozen yoghurt takes a spin with only the best ingredients. It's mmm-worthy in every bite. Live Active Cultures: S. Thermophilus, L. Bulgaricus, L. Acidophilus, Bifidus, L. Casei
Ingredients
Cream; Skim Milk; Cane Sugar; Whole Milk Yoghurt (Whole Milk, Cultures); Strawberries; Water; Lemon Juice Concentrate; Locust Bean Gum; Natural Flavor; Pectin; Guar Gum; Vegetable Juice Concentrate (for color); Vanilla Extract;
Nutrition Facts
25 servings pr container
Product Number: 00815909021175
Sale Information
On Sale!
Sale price valid from 2/3/2023 until 2/9/2023
Description
Noosa Strawberries & Cream Gelato, 14 fl oz OVER-THE-TOP DECADENT Our extra creamy, oh-so-dreamy yoghurt gelato is here. Velvety smooth frozen yoghurt takes a spin with only the best ingredients. It's mmm-worthy in every bite. Live Active Cultures: S. Thermophilus, L. Bulgaricus, L. Acidophilus, Bifidus, L. Casei
Product Number: 00815909021175
Ingredients
Cream; Skim Milk; Cane Sugar; Whole Milk Yoghurt (Whole Milk, Cultures); Strawberries; Water; Lemon Juice Concentrate; Locust Bean Gum; Natural Flavor; Pectin; Guar Gum; Vegetable Juice Concentrate (for color); Vanilla Extract;
Nutrition Facts
25 servings pr container
Product Number: 00815909021175