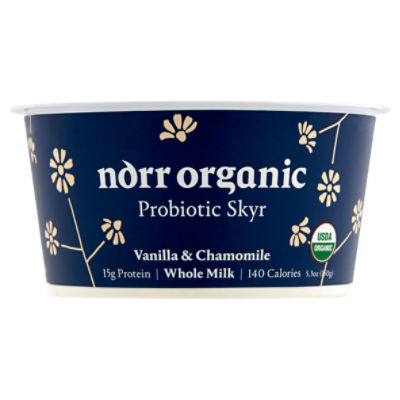 Norr Organic Vanilla & Chamomile Probiotic Skyr, 5.3 oz
Sale Information
On Sale!
Sales price valid from 1/29/2023 until 2/4/2023
Description
Norr Organic Vanilla & Chamomile Probiotic Skyr, 5.3 oz Our traditional Icelandic style skyr. Simply clean organic ingredients & science-backed probiotics. For this whole milk skyr we combine rich bourbon vanilla with soothing notes of sweet chamomile. The elegant pair will delight your tastebuds and calm your belly - this is no plain vanilla. Cultures: Bifidobacterium anim. s. lactis BB-12®, Lactobacillus rhamnosus, Lactobacillus delbrueckii s. bulgaricus, Streptococcus thermophilus
Ingredients
Organic Pasteurized Whole Milk; Organic Agave Nectar; Organic Vanilla Extract; Organic Vanilla; Organic Chamomile;
Nutrition Facts
servings pr container
Product Number: 00852614006615
Sale Information
On Sale!
Sales price valid from 1/29/2023 until 2/4/2023
Description
Norr Organic Vanilla & Chamomile Probiotic Skyr, 5.3 oz Our traditional Icelandic style skyr. Simply clean organic ingredients & science-backed probiotics. For this whole milk skyr we combine rich bourbon vanilla with soothing notes of sweet chamomile. The elegant pair will delight your tastebuds and calm your belly - this is no plain vanilla. Cultures: Bifidobacterium anim. s. lactis BB-12®, Lactobacillus rhamnosus, Lactobacillus delbrueckii s. bulgaricus, Streptococcus thermophilus
Product Number: 00852614006615
Ingredients
Organic Pasteurized Whole Milk; Organic Agave Nectar; Organic Vanilla Extract; Organic Vanilla; Organic Chamomile;
Nutrition Facts
servings pr container
Product Number: 00852614006615