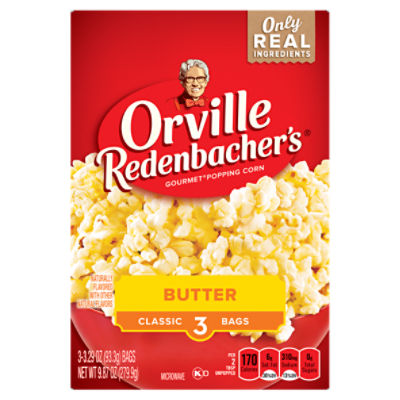 Orville Redenbacher's Butter Popcorn, Classic Bag, 3-Count
Sale Information
On Sale!
Sales price valid from 1/29/2023 until 2/4/2023
Description
Orville Redenbacher's Butter Popcorn, Classic Bag, 3-Count Orville Redenbacher's Butter Microwave Popcorn pops up in minutes and has the perfect balance of butter flavor and salt. Orville Redenbacher's Butter Popcorn has 0 grams of trans fat and 100% whole-grain gourmet popcorn per serving. Enjoy a delicious popcorn snack that's ready in minutes. Gourmet® Popping Corn
Ingredients
Whole Grain Popping Corn; Palm Oil; Salt; Natural Flavors; Mixed Tocopherols (Vitamin E for Freshness); Butter; Color Added (Annatto);
Nutrition Facts
7 servings pr container
Product Number: 00027000372432
Sale Information
On Sale!
Sales price valid from 1/29/2023 until 2/4/2023
Description
Orville Redenbacher's Butter Popcorn, Classic Bag, 3-Count Orville Redenbacher's Butter Microwave Popcorn pops up in minutes and has the perfect balance of butter flavor and salt. Orville Redenbacher's Butter Popcorn has 0 grams of trans fat and 100% whole-grain gourmet popcorn per serving. Enjoy a delicious popcorn snack that's ready in minutes. Gourmet® Popping Corn
Product Number: 00027000372432
Ingredients
Whole Grain Popping Corn; Palm Oil; Salt; Natural Flavors; Mixed Tocopherols (Vitamin E for Freshness); Butter; Color Added (Annatto);
Nutrition Facts
7 servings pr container
Product Number: 00027000372432