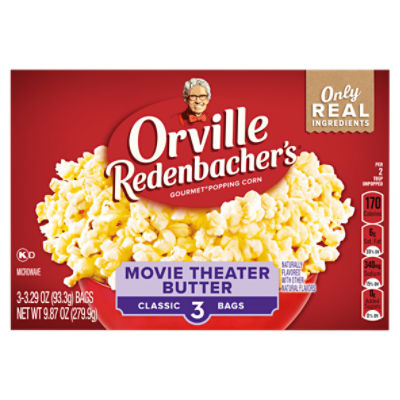 Orville Redenbacher's Movie Theater Butter Microwave Popcorn, 3.29 Ounce Classic Bag, 3-Count
Sale Information
On Sale!
Sales price valid from 1/29/2023 until 2/4/2023
Description
Orville Redenbacher's Movie Theater Butter Microwave Popcorn, 3.29 Ounce Classic Bag, 3-Count Orville Redenbacher's is the only leading brand that uses real butter* and the only leading brand of microwave popcorn with no artificial preservatives, flavors, or dyes in all of our products. Every handful of our delicious Movie Theater Butter Popcorn transports you from your couch to the theater. Orville Redenbacher's microwave popcorn is made with only high-quality, non-GMO popcorn kernels. Orville Redenbacher's isn't just a name. It's a promise of excellence and authenticity-and boom-the perfect microwave popcorn to add a pop of fun to every occasion. * Select products contain real butter. See package for ingredient details. Gourmet® Popping Corn
Ingredients
Whole Grain Popping Corn; Palm Oil; Salt; Natural Flavor (including Milk); Color Added (Annatto); Mixed Tocopherols (Vitamin E for freshness);
Nutrition Facts
7 servings pr container
Product Number: 00027000372449
Sale Information
On Sale!
Sales price valid from 1/29/2023 until 2/4/2023
Description
Orville Redenbacher's Movie Theater Butter Microwave Popcorn, 3.29 Ounce Classic Bag, 3-Count Orville Redenbacher's is the only leading brand that uses real butter* and the only leading brand of microwave popcorn with no artificial preservatives, flavors, or dyes in all of our products. Every handful of our delicious Movie Theater Butter Popcorn transports you from your couch to the theater. Orville Redenbacher's microwave popcorn is made with only high-quality, non-GMO popcorn kernels. Orville Redenbacher's isn't just a name. It's a promise of excellence and authenticity-and boom-the perfect microwave popcorn to add a pop of fun to every occasion. * Select products contain real butter. See package for ingredient details. Gourmet® Popping Corn
Product Number: 00027000372449
Ingredients
Whole Grain Popping Corn; Palm Oil; Salt; Natural Flavor (including Milk); Color Added (Annatto); Mixed Tocopherols (Vitamin E for freshness);
Nutrition Facts
7 servings pr container
Product Number: 00027000372449