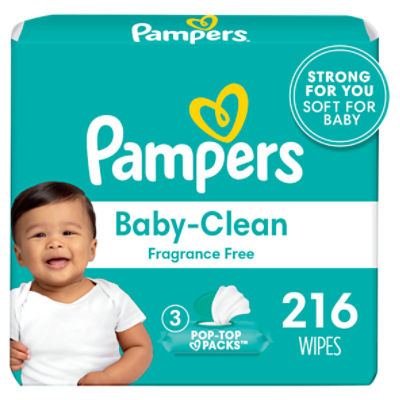 Pampers Fragrance Free Wipes, 216 count
Sale Information
On Sale!
Sale price valid from 2/3/2023 until 2/9/2023
Description
Pampers Fragrance Free Wipes, 216 count A trusted clean, Pampers Baby Wipes clean and wipe away germs and are fragrance-free for delicate skin. These hardworking wipes are 4x stronger* for tough messes. Hypoallergenic, Pampers Unscented Wipes are alcohol-free, fragrance-free, paraben-free, and latex-free.**From Pampers, the #1 pediatrician recommended brand. For healthy skin, use Pampers Wipes together with Pampers Baby-Dry diapers.*Vs. leading U.S. sub-brand**Natural rubber
Ingredients
Water; Citric Acid; PEG-40 Hydrogenated; Castor Oil; Sodium Citrate; Sodium Benzoate; Sorbitan Caprylate; Disodium Edta; Xanthan Gum;
Product Number: 00037000755333
Sale Information
On Sale!
Sale price valid from 2/3/2023 until 2/9/2023
Description
Pampers Fragrance Free Wipes, 216 count A trusted clean, Pampers Baby Wipes clean and wipe away germs and are fragrance-free for delicate skin. These hardworking wipes are 4x stronger* for tough messes. Hypoallergenic, Pampers Unscented Wipes are alcohol-free, fragrance-free, paraben-free, and latex-free.**From Pampers, the #1 pediatrician recommended brand. For healthy skin, use Pampers Wipes together with Pampers Baby-Dry diapers.*Vs. leading U.S. sub-brand**Natural rubber
Product Number: 00037000755333
Ingredients
Water; Citric Acid; PEG-40 Hydrogenated; Castor Oil; Sodium Citrate; Sodium Benzoate; Sorbitan Caprylate; Disodium Edta; Xanthan Gum;
Product Number: 00037000755333