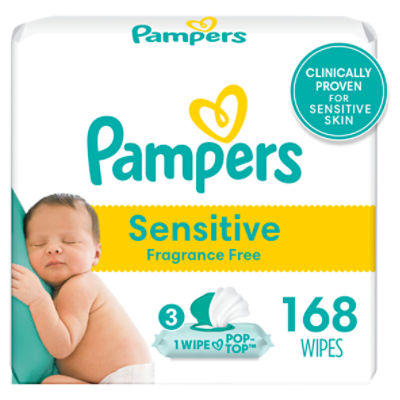 Pampers Sensitive Fragrance Free Wipes, 3 pack, 168 wipes
Sale Information
On Sale!
Sale price valid from 2/3/2023 until 2/9/2023
Description
Pampers Sensitive Fragrance Free Wipes, 3 pack, 168 wipes Clinically proven for sensitive skin, Pampers Sensitive baby wipes are thick and gentle for a soothing clean. For less waste, our unique pop-top helps keep these wet wipes fresh, and only dispenses one at a time. Hypoallergenic, Pampers Sensitive wipes are alcohol-free, fragrance-free, paraben-free, and latex-free.* From Pampers, the #1 pediatrician recommended brand. For healthy skin, use Pampers Sensitive wipes together with Pampers Swaddlers diapers. *Natural rubber
Ingredients
Water; Citric Acid; PEG-40 Hydrogenated Castor Oil; Sodium Citrate; Sorbitan Caprylate; Sodium Benzoate; Disodium EDTA; Isoamyl Laurate; Xanthan Gum;
Product Number: 00037000870876
Sale Information
On Sale!
Sale price valid from 2/3/2023 until 2/9/2023
Description
Pampers Sensitive Fragrance Free Wipes, 3 pack, 168 wipes Clinically proven for sensitive skin, Pampers Sensitive baby wipes are thick and gentle for a soothing clean. For less waste, our unique pop-top helps keep these wet wipes fresh, and only dispenses one at a time. Hypoallergenic, Pampers Sensitive wipes are alcohol-free, fragrance-free, paraben-free, and latex-free.* From Pampers, the #1 pediatrician recommended brand. For healthy skin, use Pampers Sensitive wipes together with Pampers Swaddlers diapers. *Natural rubber
Product Number: 00037000870876
Ingredients
Water; Citric Acid; PEG-40 Hydrogenated Castor Oil; Sodium Citrate; Sorbitan Caprylate; Sodium Benzoate; Disodium EDTA; Isoamyl Laurate; Xanthan Gum;
Product Number: 00037000870876