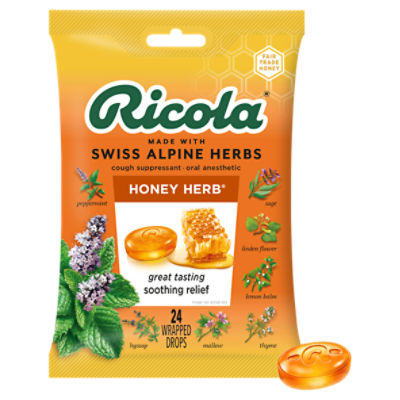 Ricola Honey-Herb Cough Suppressant, Throat Drops, 24 Each
Sale Information
On Sale!
Sales price valid from 12/2/2022 until 12/8/2022
Description
Ricola Honey-Herb Cough Suppressant Throat Drops, 24 count Ricola combines sweet natural honey with our proprietary blend of 10 Swiss herbs to delicately flavor our uniquely tasty and effective Honey-Herb® Cough drops. Uses Temporarily relieves: • cough due to a cold or inhaled irritants • occasional minor irritation and pain due to sore throat or sore mouth Drug Facts Active Ingredient (in each drop) - Purposes Menthol, 2.0 mg - Cough suppressant, oral anesthetic
Ingredients
Inactive Ingredients: Color (Caramel), Extract of a Ricola Herb Mixture (Elder, Horehound, Hyssop, Lemon Balm, Linden Flowers, Mallow, Peppermint, Sage, Thyme, Wild Thyme), Honey, Natural Flavors, Starch Syrup, Sugar;
Product Number: 00036602300019
Sale Information
On Sale!
Sales price valid from 12/2/2022 until 12/8/2022
Description
Ricola Honey-Herb Cough Suppressant Throat Drops, 24 count Ricola combines sweet natural honey with our proprietary blend of 10 Swiss herbs to delicately flavor our uniquely tasty and effective Honey-Herb® Cough drops. Uses Temporarily relieves: • cough due to a cold or inhaled irritants • occasional minor irritation and pain due to sore throat or sore mouth Drug Facts Active Ingredient (in each drop) - Purposes Menthol, 2.0 mg - Cough suppressant, oral anesthetic
Product Number: 00036602300019
Ingredients
Inactive Ingredients: Color (Caramel), Extract of a Ricola Herb Mixture (Elder, Horehound, Hyssop, Lemon Balm, Linden Flowers, Mallow, Peppermint, Sage, Thyme, Wild Thyme), Honey, Natural Flavors, Starch Syrup, Sugar;
Product Number: 00036602300019