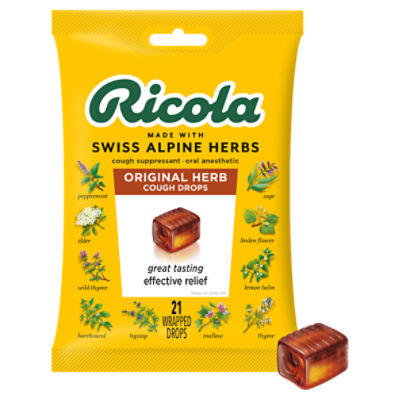 Ricola The Original Natural Herb, Cough Drops, 21 Each
Sale Information
On Sale!
Sales price valid from 12/2/2022 until 12/8/2022
Description
Ricola The Original Natural Herb Cough Drops, 21 count Cough Suppressant - Throat Drops Peppermint, sage, elder, linden flowers, wild thyme, lemon balm, horehound, hyssop, thyme, mallow Ricola Original Natural Herb Cough Drops are made today as they were in 1930 when Emil Richterich first developed his popular herbal drops in the Swiss village of Laufen. Natural menthol and Ricola's special 10-herb blend combine to make Ricola Original Natural Herb Cough Drops uniquely delicious and effective. Uses Temporarily relieves: • cough due to a cold or inhaled irritants • occasional minor irritation and pain due to sore throat or sore mouth Drug Facts Active Ingredient (in each drop) - Purposes Menthol, 4.8 mg - Cough suppressant, oral anesthetic
Ingredients
Inactive Ingredients: Color (Caramel), Extract of a Ricola Herb Mixture (Elder, Horehound, Hyssop, Lemon Balm, Linden Flowers, Mallow, Peppermint, Sage, Thyme, Wild Thyme), Natural Flavor, Starch Syrup, Sugar;
Product Number: 00036602079175
Sale Information
On Sale!
Sales price valid from 12/2/2022 until 12/8/2022
Description
Ricola The Original Natural Herb Cough Drops, 21 count Cough Suppressant - Throat Drops Peppermint, sage, elder, linden flowers, wild thyme, lemon balm, horehound, hyssop, thyme, mallow Ricola Original Natural Herb Cough Drops are made today as they were in 1930 when Emil Richterich first developed his popular herbal drops in the Swiss village of Laufen. Natural menthol and Ricola's special 10-herb blend combine to make Ricola Original Natural Herb Cough Drops uniquely delicious and effective. Uses Temporarily relieves: • cough due to a cold or inhaled irritants • occasional minor irritation and pain due to sore throat or sore mouth Drug Facts Active Ingredient (in each drop) - Purposes Menthol, 4.8 mg - Cough suppressant, oral anesthetic
Product Number: 00036602079175
Ingredients
Inactive Ingredients: Color (Caramel), Extract of a Ricola Herb Mixture (Elder, Horehound, Hyssop, Lemon Balm, Linden Flowers, Mallow, Peppermint, Sage, Thyme, Wild Thyme), Natural Flavor, Starch Syrup, Sugar;
Product Number: 00036602079175