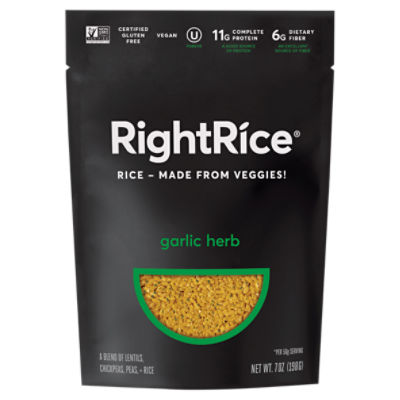 RightRice Garlic Herb Rice, 7 oz
Sale Information
On Sale!
Sale price valid from 3/31/2023 until 4/6/2023
Description
RightRice Garlic Herb Rice, 7 oz A Blend of Lentils, Chickpeas, Peas + Rice 10g Complete Protein* 5g Fiber* *Per 50g Serving Our new grain is packed with the power of vegetables. (We found a way.) We love rice. That's what inspired us to create a blend of over 90% nutritious vegetables + rice into a tasty grain that gives you more plant-based protein and fiber. Now you can soak up great sauces, complement courses, and inspire your next meal-all on a carb-friendly diet. Enjoy Garlic Herb RightRice® with fresh herb flavors and a well-rounded garlic finish. RightRice®: Protein: 10g; White Rice*: Protein: 4g RightRice®: Fiber: 5g; White Rice*: Fiber: 0g RightRice®: Net Carbs†: 25g; White Rice*: Net Carbs†: 39g RightRice® is a complete protein *leading white rice, per 50g dry rice †net carbs = total carbs - dietary fiber
Ingredients
Lentil Flour; Chickpea Flour; Pea Fiber; Rice Flour; Sunflower Oil; Sea Salt; Garlic Powder; Spices; Onion Powder; Sugar; Yeast Extract; Parsley; Citric Acid; Extra Virgin Olive Oil; Lemon Juice Solids; Red Wine Vinegar; White Balsamic Vinegar Solids; Tartaric Acid; Chili Pepper; Natural Flavors;
Nutrition Facts
servings pr container
Product Number: 00850000039049
Sale Information
On Sale!
Sale price valid from 3/31/2023 until 4/6/2023
Description
RightRice Garlic Herb Rice, 7 oz A Blend of Lentils, Chickpeas, Peas + Rice 10g Complete Protein* 5g Fiber* *Per 50g Serving Our new grain is packed with the power of vegetables. (We found a way.) We love rice. That's what inspired us to create a blend of over 90% nutritious vegetables + rice into a tasty grain that gives you more plant-based protein and fiber. Now you can soak up great sauces, complement courses, and inspire your next meal-all on a carb-friendly diet. Enjoy Garlic Herb RightRice® with fresh herb flavors and a well-rounded garlic finish. RightRice®: Protein: 10g; White Rice*: Protein: 4g RightRice®: Fiber: 5g; White Rice*: Fiber: 0g RightRice®: Net Carbs†: 25g; White Rice*: Net Carbs†: 39g RightRice® is a complete protein *leading white rice, per 50g dry rice †net carbs = total carbs - dietary fiber
Product Number: 00850000039049
Ingredients
Lentil Flour; Chickpea Flour; Pea Fiber; Rice Flour; Sunflower Oil; Sea Salt; Garlic Powder; Spices; Onion Powder; Sugar; Yeast Extract; Parsley; Citric Acid; Extra Virgin Olive Oil; Lemon Juice Solids; Red Wine Vinegar; White Balsamic Vinegar Solids; Tartaric Acid; Chili Pepper; Natural Flavors;
Nutrition Facts
servings pr container
Product Number: 00850000039049