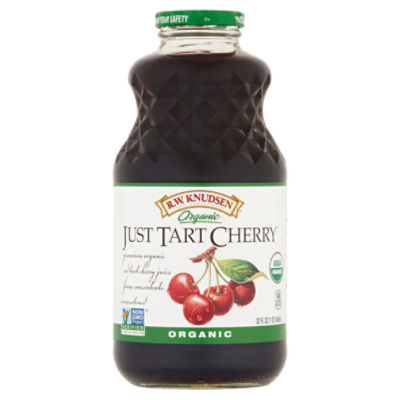 R.W. Knudsen Family Organic Just Tart Cherry, Juice, 32 Fluid ounce
$8.69
was $9.99
$0.27/fl oz
Sale Information
On Sale!
Sales price valid from 11/27/2022 until 12/3/2022
Description
R.W. Knudsen Family Organic Just Tart Cherry Juice, 32 fl oz Premium Organic Red Tart Cherry Juice from Concentrate Provides a 1 cup serving each 8 fl oz cup of fruit* *Serving information based on USDA's MyPlate (www.ChoosemyPlate.gov)
Ingredients
Filtered Water (sufficient to reconstitute); Organic Red Tart Cherry Juice Concentrate;
Nutrition Facts
4 servings pr container
serving size
8 fluidOunceUS
Product Number: 00074682107821
Sale Information
On Sale!
Sales price valid from 11/27/2022 until 12/3/2022
Description
R.W. Knudsen Family Organic Just Tart Cherry Juice, 32 fl oz Premium Organic Red Tart Cherry Juice from Concentrate Provides a 1 cup serving each 8 fl oz cup of fruit* *Serving information based on USDA's MyPlate (www.ChoosemyPlate.gov)
Product Number: 00074682107821
Ingredients
Filtered Water (sufficient to reconstitute); Organic Red Tart Cherry Juice Concentrate;
Nutrition Facts
4 servings pr container
serving size
8 fluidOunceUS
Product Number: 00074682107821