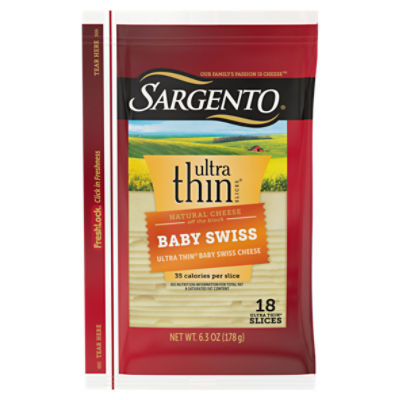 SARGENTO Ultra Thin Slices Baby Swiss Natural Cheese, 18 count, 6.3 oz
Sale Information
On Sale!
Sale price valid from 2/3/2023 until 2/9/2023
Description
SARGENTO Ultra Thin Slices Baby Swiss Natural Cheese, 18 count, 6.3 oz Expertly sliced, this cheese makes it easy to add the mild, buttery flavor of Baby Swiss to your sandwiches and snacks. Ultra Thin® Baby Swiss Natural Cheese Slices No added growth hormones* *No significant difference has been shown between milk derived from rBST-treated and non-rBST-treated cows No antibiotics** **Our cheese is made from milk that does not contain antibiotics Fresh-Lock® click in freshness
Ingredients
Pasteurized Milk; Cheese Culture; Salt; Enzymes;
Nutrition Facts
servings pr container
Product Number: 00046100002308
Sale Information
On Sale!
Sale price valid from 2/3/2023 until 2/9/2023
Description
SARGENTO Ultra Thin Slices Baby Swiss Natural Cheese, 18 count, 6.3 oz Expertly sliced, this cheese makes it easy to add the mild, buttery flavor of Baby Swiss to your sandwiches and snacks. Ultra Thin® Baby Swiss Natural Cheese Slices No added growth hormones* *No significant difference has been shown between milk derived from rBST-treated and non-rBST-treated cows No antibiotics** **Our cheese is made from milk that does not contain antibiotics Fresh-Lock® click in freshness
Product Number: 00046100002308
Ingredients
Pasteurized Milk; Cheese Culture; Salt; Enzymes;
Nutrition Facts
servings pr container
Product Number: 00046100002308