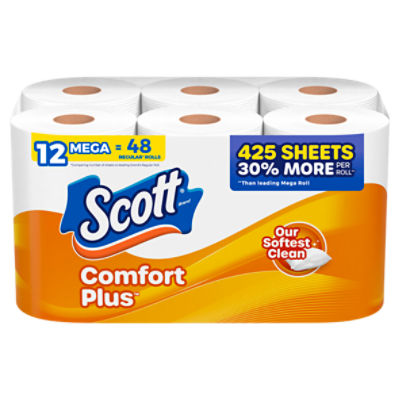 Scott ComfortPlus Toilet Paper Mega Rolls 1 Ply Toilet Tissue
$14.99
was $15.74
$1.25 each
Sale Information
On Sale!
Sales price valid from 1/27/2023 until 2/2/2023
Description
Scott ComfortPlus Toilet Paper Mega Rolls 1 Ply Toilet Tissue Discover comfort and clean you can trust with Scott ComfortPlus toilet tissue rolls: 1-layer toilet paper that offers everyday comfort plus reliable strength. With Scott ComfortPlus Toilet Paper, you get 12 Mega Rolls of 425 sheets, so you have plenty of toilet paper for you and your loved ones. 3x stronger than the leading bargain brand, Scott ComfortPlus breaks down 6x faster vs the leading brand one ply and is sewer-safe, septic-safe and clog-free. And here's one more reason why Scott ComfortPlus toilet paper is the perfect addition to your household supplies: Our 1-ply toilet tissue paper combines just the right amount of softness and strength by featuring thick and plush sheets for a trusted, comforting clean. We've been trusted for generations: Scott bathroom tissue is sustainably sourced from responsibly managed forests, features recyclable packaging and is a 100% biodegradable tissue. Keep life rolling by ordering Scott ComfortPlus in bulk online! * vs the leading brand one ply
Product Number: 00054000542459
Sale Information
On Sale!
Sales price valid from 1/27/2023 until 2/2/2023
Description
Scott ComfortPlus Toilet Paper Mega Rolls 1 Ply Toilet Tissue Discover comfort and clean you can trust with Scott ComfortPlus toilet tissue rolls: 1-layer toilet paper that offers everyday comfort plus reliable strength. With Scott ComfortPlus Toilet Paper, you get 12 Mega Rolls of 425 sheets, so you have plenty of toilet paper for you and your loved ones. 3x stronger than the leading bargain brand, Scott ComfortPlus breaks down 6x faster vs the leading brand one ply and is sewer-safe, septic-safe and clog-free. And here's one more reason why Scott ComfortPlus toilet paper is the perfect addition to your household supplies: Our 1-ply toilet tissue paper combines just the right amount of softness and strength by featuring thick and plush sheets for a trusted, comforting clean. We've been trusted for generations: Scott bathroom tissue is sustainably sourced from responsibly managed forests, features recyclable packaging and is a 100% biodegradable tissue. Keep life rolling by ordering Scott ComfortPlus in bulk online! * vs the leading brand one ply
Product Number: 00054000542459
Product Number: 00054000542459