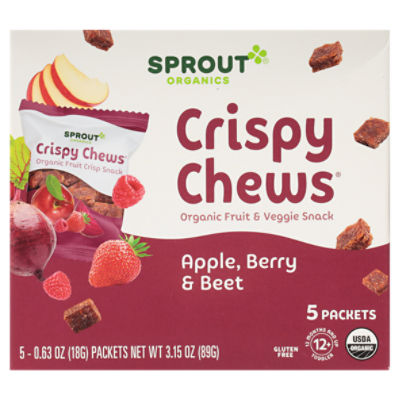 Sprout Crispy Chews Organic Red Fruit Beet & Berry, Toddler Fruit Snack, 3.15 Ounce
Sale Information
On Sale!
Sales price valid from 12/2/2022 until 12/8/2022
Description
Sprout Crispy Chews Organic Red Fruit Beet & Berry Toddler Fruit Snack, 0.63 oz, 5 count Organic Red Fruit Beet & Berry Toddler Fruit Snack with Whole Grains 12 Months & Up Made with a full serving of real fruits & veggies† Crisped whole grain rice, fruits and vegetables are blended together in this delicious, chewy fruit snack. Made with all the goodness your growing toddler will love, Sprout® Crispy Chews™ is the brand that moms choose for delicious organic snacks. Sprout® - Wholesome Snacking Made Fun! ✓ Certified organic ✓ Gluten free ✓ Non-GMO* ✓ No preservatives ✓ No added or artificial flavors † 1 toddler serving is equivalent to 1/4 cup of fruit & vegetables. * Our organic recipes do not use ingredients produced using biotechnology. Is Your Child Ready for Crispy Chews? • Starts to stand and walk alone • Feeds self easily with fingers • Chews through a variety of textures • Eats thicker solids with larger pieces
Ingredients
Organic Apple Puree Concentrate; Organic Apple Juice Concentrate; Organic Raspberry Puree; Organic Strawberry Juice Concentrate; Organic Red Beet Juice Concentrate; Organic Crisped Rice Flour; Cellulose Powder; Citrus Pectin;
Nutrition Facts
servings pr container
Product Number: 00818512015005
Sale Information
On Sale!
Sales price valid from 12/2/2022 until 12/8/2022
Description
Sprout Crispy Chews Organic Red Fruit Beet & Berry Toddler Fruit Snack, 0.63 oz, 5 count Organic Red Fruit Beet & Berry Toddler Fruit Snack with Whole Grains 12 Months & Up Made with a full serving of real fruits & veggies† Crisped whole grain rice, fruits and vegetables are blended together in this delicious, chewy fruit snack. Made with all the goodness your growing toddler will love, Sprout® Crispy Chews™ is the brand that moms choose for delicious organic snacks. Sprout® - Wholesome Snacking Made Fun! ✓ Certified organic ✓ Gluten free ✓ Non-GMO* ✓ No preservatives ✓ No added or artificial flavors † 1 toddler serving is equivalent to 1/4 cup of fruit & vegetables. * Our organic recipes do not use ingredients produced using biotechnology. Is Your Child Ready for Crispy Chews? • Starts to stand and walk alone • Feeds self easily with fingers • Chews through a variety of textures • Eats thicker solids with larger pieces
Product Number: 00818512015005
Ingredients
Organic Apple Puree Concentrate; Organic Apple Juice Concentrate; Organic Raspberry Puree; Organic Strawberry Juice Concentrate; Organic Red Beet Juice Concentrate; Organic Crisped Rice Flour; Cellulose Powder; Citrus Pectin;
Nutrition Facts
servings pr container
Product Number: 00818512015005