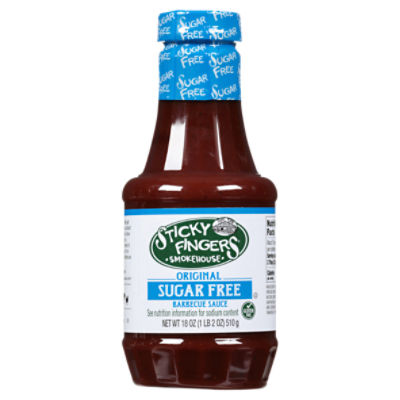 Sticky Fingers Sugar Free Original, Barbecue Sauce, 18 Ounce
Sale Information
On Sale!
Sales price valid from 11/27/2022 until 12/3/2022
Description
Sticky Fingers Smokehouse Sugar Free Original Barbecue Sauce, 18 oz Notice: This sauce will exceed your expectations! We get it. You've been left disappointed by other so-called Sugar Free ''barbecue sauces.'' But here you have a sauce crafted in the Southern tradition by a smokehouse crew that won't compromise when it comes to flavor. So pick up this bottle, pour it on anything you can imagine, and enjoy true barbecue flavor without the sugar. 4g total carbs - 0g fiber - allulose = 1g net carb
Ingredients
Water; Distilled Vinegar; Tomato Paste; Allulose; Apple Cider Vinegar; Modified Corn Starch; Salt; Contains less than 2% of Natural Flavor, Natural Smoke Flavor, Caramel Color, Spice, Garlic, * Paprika Extract (Color), Corn Syrup**, Xanthan Gum, Onion, * Mustard Flour, Paprika, Potassium Sorbate and Sodium Benzoate (Preservatives), Sucralose, Celery Seed, Tamarind, Citric Acid, Sodium Citrate; *Dried; **Adds a trivial amount of Sugar;
Product Number: 00757339250032
Sale Information
On Sale!
Sales price valid from 11/27/2022 until 12/3/2022
Description
Sticky Fingers Smokehouse Sugar Free Original Barbecue Sauce, 18 oz Notice: This sauce will exceed your expectations! We get it. You've been left disappointed by other so-called Sugar Free ''barbecue sauces.'' But here you have a sauce crafted in the Southern tradition by a smokehouse crew that won't compromise when it comes to flavor. So pick up this bottle, pour it on anything you can imagine, and enjoy true barbecue flavor without the sugar. 4g total carbs - 0g fiber - allulose = 1g net carb
Product Number: 00757339250032
Ingredients
Water; Distilled Vinegar; Tomato Paste; Allulose; Apple Cider Vinegar; Modified Corn Starch; Salt; Contains less than 2% of Natural Flavor, Natural Smoke Flavor, Caramel Color, Spice, Garlic, * Paprika Extract (Color), Corn Syrup**, Xanthan Gum, Onion, * Mustard Flour, Paprika, Potassium Sorbate and Sodium Benzoate (Preservatives), Sucralose, Celery Seed, Tamarind, Citric Acid, Sodium Citrate; *Dried; **Adds a trivial amount of Sugar;
Product Number: 00757339250032