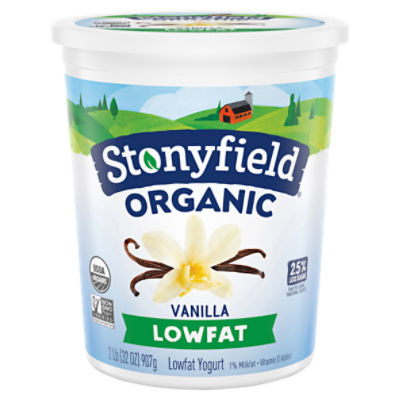 Stonyfield Organic Lowfat Vanilla, Yogurt, 32 Ounce
Sale Information
On Sale!
Sales price valid from 11/27/2022 until 12/3/2022
Description
Stonyfield Organic Lowfat Yogurt, Vanilla, 32 oz. Stonyfield Organic Vanilla Lowfat Yogurt is the perfect breakfast staple or afternoon snack for days on the go. Packaged in a 32-ounce container. 6 Live Active Cultures: S. thermophilus, L. bulgaricus, L. acidophilus, Bifidus, L. paracasei and L. rhamnosus. This yogurt has 2.7g sugar/oz vs an average 3.6g sugar/oz in the leading branded non-strained traditional yogurts. No Toxic Persistent Pesticides* *Our products are made without the use of toxic persistent pesticides
Ingredients
Cultured Pasteurized Organic Low Fat Milk; Organic Cane Sugar; Organic Natural Vanilla Flavor; Pectin; Lactase Enzyme; Vitamin D3;
Nutrition Facts
5 servings pr container
Product Number: 00052159005207
Sale Information
On Sale!
Sales price valid from 11/27/2022 until 12/3/2022
Description
Stonyfield Organic Lowfat Yogurt, Vanilla, 32 oz. Stonyfield Organic Vanilla Lowfat Yogurt is the perfect breakfast staple or afternoon snack for days on the go. Packaged in a 32-ounce container. 6 Live Active Cultures: S. thermophilus, L. bulgaricus, L. acidophilus, Bifidus, L. paracasei and L. rhamnosus. This yogurt has 2.7g sugar/oz vs an average 3.6g sugar/oz in the leading branded non-strained traditional yogurts. No Toxic Persistent Pesticides* *Our products are made without the use of toxic persistent pesticides
Product Number: 00052159005207
Ingredients
Cultured Pasteurized Organic Low Fat Milk; Organic Cane Sugar; Organic Natural Vanilla Flavor; Pectin; Lactase Enzyme; Vitamin D3;
Nutrition Facts
5 servings pr container
Product Number: 00052159005207