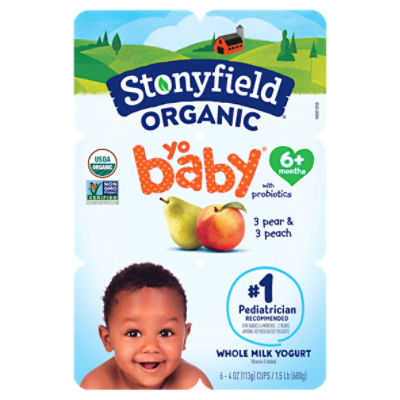 Stonyfield Organic YoBaby Whole Milk Yogurt with Probiotics Peach and Pear
Sale Information
On Sale!
Sales price valid from 1/29/2023 until 2/4/2023
Description
Stonyfield Organic YoBaby Whole Milk Yogurt with Probiotics Peach and Pear Stonyfield Organic YoBaby Whole Milk Pear & Peach Yogurt Cups are a first food for babies 6 months and older - the perfect 4-ounce size for introducing new flavors. Includes 3 pear cups and 3 peach cups. #1 pediatrician recommended for babies 6 months - 2 years among refrigerated yogurts 6 Live Active Cultures: S. thermophilus, L. bulgaricus, Bifidobacterium animalis lactis BB-12®, L. acidophilus, L. paracasei and L. rhamnosus. Nourish Your Baby ✓ Protein ✓ Vitamin D ✓ Calcium ✓ Whole milk
Product Number: 00052159701161
Sale Information
On Sale!
Sales price valid from 1/29/2023 until 2/4/2023
Description
Stonyfield Organic YoBaby Whole Milk Yogurt with Probiotics Peach and Pear Stonyfield Organic YoBaby Whole Milk Pear & Peach Yogurt Cups are a first food for babies 6 months and older - the perfect 4-ounce size for introducing new flavors. Includes 3 pear cups and 3 peach cups. #1 pediatrician recommended for babies 6 months - 2 years among refrigerated yogurts 6 Live Active Cultures: S. thermophilus, L. bulgaricus, Bifidobacterium animalis lactis BB-12®, L. acidophilus, L. paracasei and L. rhamnosus. Nourish Your Baby ✓ Protein ✓ Vitamin D ✓ Calcium ✓ Whole milk
Product Number: 00052159701161
Product Number: 00052159701161