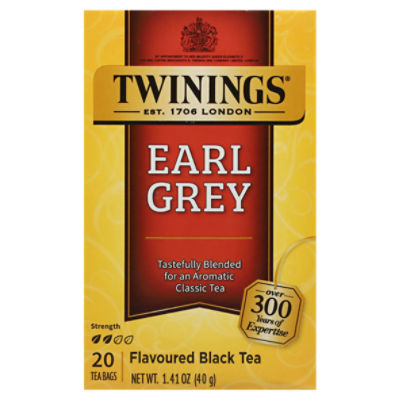 Twinings of London Earl Grey Black Tea Bags, 20 count, 1.41 oz
Sale Information
On Sale!
Sale price valid from 2/3/2023 until 2/9/2023
Description
Twinings of London Earl Grey Black Tea Bags, 20 count, 1.41 oz Brighten up your day with the distinctive taste and aroma of this classic tea. Master Blender's Notes Notes: Fragrant, floral, citrusy Colour: Translucent, reddish-brown Steep Time: 3 minutes (recommended) ''Twinings has been blending my family tea for years. Legend has it that my ancestor, the second Earl Grey, was presented with this exquisite recipe by an envoy on his return from China. He liked it so much, he asked Richard Twining to recreate it for him. Generations of my family have enjoyed Earl Grey tea and today, I am proud to continue this tradition with the tea celebrated throughout the world known as Twinings Earl Grey.'' The seventh Earl Grey At Twinings, we take great care to ensure that the Earl Grey tea you drink today tastes as extraordinary as the one Richard Twining first recreated. Fresh, fragrant and flavoured with distinctive notes of citrus, this Earl Grey tea has all the taste of the original. Mike Wright-Master Blender
Ingredients
Black Tea; Natural Flavours; Bergamot Peel;
Product Number: 00070177154226
Sale Information
On Sale!
Sale price valid from 2/3/2023 until 2/9/2023
Description
Twinings of London Earl Grey Black Tea Bags, 20 count, 1.41 oz Brighten up your day with the distinctive taste and aroma of this classic tea. Master Blender's Notes Notes: Fragrant, floral, citrusy Colour: Translucent, reddish-brown Steep Time: 3 minutes (recommended) ''Twinings has been blending my family tea for years. Legend has it that my ancestor, the second Earl Grey, was presented with this exquisite recipe by an envoy on his return from China. He liked it so much, he asked Richard Twining to recreate it for him. Generations of my family have enjoyed Earl Grey tea and today, I am proud to continue this tradition with the tea celebrated throughout the world known as Twinings Earl Grey.'' The seventh Earl Grey At Twinings, we take great care to ensure that the Earl Grey tea you drink today tastes as extraordinary as the one Richard Twining first recreated. Fresh, fragrant and flavoured with distinctive notes of citrus, this Earl Grey tea has all the taste of the original. Mike Wright-Master Blender
Product Number: 00070177154226
Ingredients
Black Tea; Natural Flavours; Bergamot Peel;
Product Number: 00070177154226