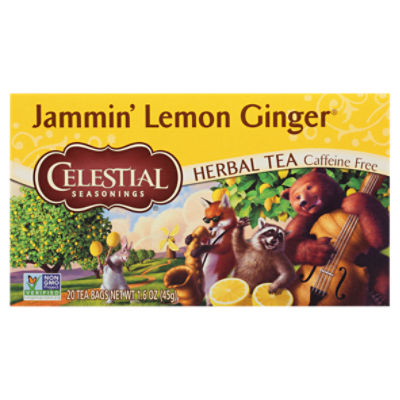 Sale Information
On Sale!
Sales price valid from 11/25/2022 until 12/1/2022
Description
Celestial Seasonings® Jammin' Lemon Ginger® Caffeine Free Herbal Tea Bags 20 ct Blendmaster's Notes Jammin' Lemon Ginger® ''This uplifting blend combines spicy ginger - valued for its piquant taste and reputation as a digestive aid - with a cheerfully bright lemon flavor and aroma. You might say that the pairing of lemon and ginger hits 'just the right note' anytime you need a soothing and rejuvenating cup of tea.'' Charlie Baden, Celestial Seasonings Blendmaster
Ingredients
Ginger; Lemon Verbena; Lemongrass; Natural Lemon and Ginger Flavors with Other Natural Flavors; Rosehips; Roasted Chicory; Citric Acid; Lemons;
Product Number: 00070734523335
Sale Information
On Sale!
Sales price valid from 11/25/2022 until 12/1/2022
Description
Celestial Seasonings® Jammin' Lemon Ginger® Caffeine Free Herbal Tea Bags 20 ct Blendmaster's Notes Jammin' Lemon Ginger® ''This uplifting blend combines spicy ginger - valued for its piquant taste and reputation as a digestive aid - with a cheerfully bright lemon flavor and aroma. You might say that the pairing of lemon and ginger hits 'just the right note' anytime you need a soothing and rejuvenating cup of tea.'' Charlie Baden, Celestial Seasonings Blendmaster
Product Number: 00070734523335
Ingredients
Ginger; Lemon Verbena; Lemongrass; Natural Lemon and Ginger Flavors with Other Natural Flavors; Rosehips; Roasted Chicory; Citric Acid; Lemons;
Product Number: 00070734523335