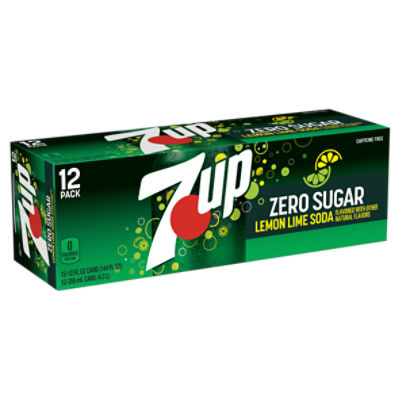 7UP Zero Sugar Lemon Lime Soda, 12 fl oz, 12 count
$8.50
was $9.99
$0.06/fl oz
Sale Information
On Sale!
Sales price valid from 1/27/2023 until 2/2/2023
Description
7UP Zero Sugar Lemon Lime Soda, 12 fl oz, 12 count Feel refreshed by the balanced taste of 7UP Zero Sugar, made with the crisp, iconic Lemon Lime flavors and without the calories. 7UP is a fantastic drink on its own and is also a perfect addition to meals and recipes for any occasion. Whether you're looking to enjoy a refreshing lemon-lime soda or add a crisp, balanced flavor to a favorite recipe, 7UP is the perfect ingredient. 7UP is a low sodium carbonated soda option; from cocktails to mocktails to cooking and baking, do more at your next get-together with the refreshing taste of 7UP. Try one of our favorite food or drink recipes like Pineapple 7UP Side-Down Cupcakes. Combine 7UP with your favorite box cake mix and Maraschino cherries for a delicious twist on everyday baking. Top with crushed pineapples and whipped topping for an even better dessert or special occasion treat. Try a new drink recipe like this sweet pineapple-infused cocktail we call the 7UP Side-Down Cake. Combine your favorite cake flavored vodka, fresh orange juice, fresh pineapple juice and your favorite 7UP flavor. Then pour over ice and enjoy! Over 21, please drink responsibly. ZERO SUGAR: Enjoy the crisp, clean, guilt-free taste of 7UP Zero Sugar any time of day CARBONATED SODA: Carbonated soda delivers the satisfying taste of lemon lime flavor every time CAFFEINE FREE: The great taste of 7UP Zero Sugar is caffeine-free, low in sodium and has zero sugar PERFECT PAIRING: 7UP Zero Sugar is a delight on its own or as the perfect ingredient in everything from cocktails and mocktails to grilling marinades and tasty desserts TRUSTED BRAND: Iconic and unique lemon lime flavor from the brand that brought you original 7UP, Bib-Label Lithiated Lemon-Lime Soda in October 1929
Ingredients
Filtered Carbonated Water; Citric Acid; Potassium Citrate; Potassium Benzoate (Preservative); Aspartame; Acesulfame Potassium; Natural Flavors; Calcium Disodium EDTA (to protect flavor);
Nutrition Facts
servings pr container
serving size
12 fluidOunceUS
Product Number: 00078000011814
Sale Information
On Sale!
Sales price valid from 1/27/2023 until 2/2/2023
Description
7UP Zero Sugar Lemon Lime Soda, 12 fl oz, 12 count Feel refreshed by the balanced taste of 7UP Zero Sugar, made with the crisp, iconic Lemon Lime flavors and without the calories. 7UP is a fantastic drink on its own and is also a perfect addition to meals and recipes for any occasion. Whether you're looking to enjoy a refreshing lemon-lime soda or add a crisp, balanced flavor to a favorite recipe, 7UP is the perfect ingredient. 7UP is a low sodium carbonated soda option; from cocktails to mocktails to cooking and baking, do more at your next get-together with the refreshing taste of 7UP. Try one of our favorite food or drink recipes like Pineapple 7UP Side-Down Cupcakes. Combine 7UP with your favorite box cake mix and Maraschino cherries for a delicious twist on everyday baking. Top with crushed pineapples and whipped topping for an even better dessert or special occasion treat. Try a new drink recipe like this sweet pineapple-infused cocktail we call the 7UP Side-Down Cake. Combine your favorite cake flavored vodka, fresh orange juice, fresh pineapple juice and your favorite 7UP flavor. Then pour over ice and enjoy! Over 21, please drink responsibly. ZERO SUGAR: Enjoy the crisp, clean, guilt-free taste of 7UP Zero Sugar any time of day CARBONATED SODA: Carbonated soda delivers the satisfying taste of lemon lime flavor every time CAFFEINE FREE: The great taste of 7UP Zero Sugar is caffeine-free, low in sodium and has zero sugar PERFECT PAIRING: 7UP Zero Sugar is a delight on its own or as the perfect ingredient in everything from cocktails and mocktails to grilling marinades and tasty desserts TRUSTED BRAND: Iconic and unique lemon lime flavor from the brand that brought you original 7UP, Bib-Label Lithiated Lemon-Lime Soda in October 1929
Product Number: 00078000011814
Ingredients
Filtered Carbonated Water; Citric Acid; Potassium Citrate; Potassium Benzoate (Preservative); Aspartame; Acesulfame Potassium; Natural Flavors; Calcium Disodium EDTA (to protect flavor);
Nutrition Facts
servings pr container
serving size
12 fluidOunceUS
Product Number: 00078000011814