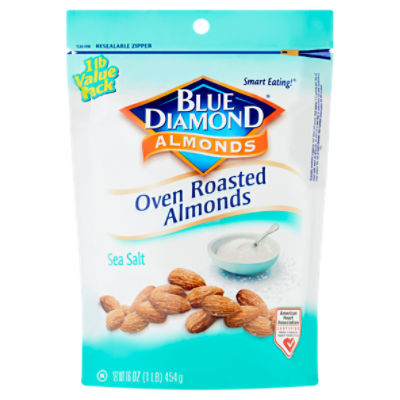 Blue Diamond Almonds Sea Salt Oven Roasted Almonds Value Pack, 16 oz
Sale Information
On Sale!
Sales price valid from 1/29/2023 until 2/4/2023
Description
Blue Diamond Almonds Sea Salt Oven Roasted Almonds Value Pack, 16 oz Smart Eating!® A handful of almonds a day is a healthy snacking choice! Oven Roasted almonds are a healthy snack, offering a wonderful blend of delicate flavors and an abundance of nutritional benefits. Eating almonds as part of your healthy lifestyle also provides you with a satisfying snack that fills you up with fewer calories, and helps with weight management. 6g Total Carbs - 3g Fiber = 3g Net Carbs Per Serving
Ingredients
Almonds; Sea Salt; Corn Maltodextrin;
Nutrition Facts
16 servings pr container
Product Number: 00041570057902
Sale Information
On Sale!
Sales price valid from 1/29/2023 until 2/4/2023
Description
Blue Diamond Almonds Sea Salt Oven Roasted Almonds Value Pack, 16 oz Smart Eating!® A handful of almonds a day is a healthy snacking choice! Oven Roasted almonds are a healthy snack, offering a wonderful blend of delicate flavors and an abundance of nutritional benefits. Eating almonds as part of your healthy lifestyle also provides you with a satisfying snack that fills you up with fewer calories, and helps with weight management. 6g Total Carbs - 3g Fiber = 3g Net Carbs Per Serving
Product Number: 00041570057902
Ingredients
Almonds; Sea Salt; Corn Maltodextrin;
Nutrition Facts
16 servings pr container
Product Number: 00041570057902