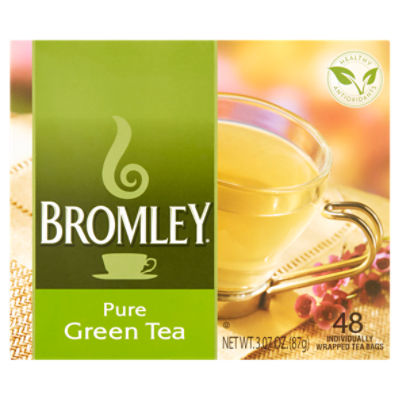 Sale Information
On Sale!
Sale price valid from 2/3/2023 until 2/9/2023
Description
Bromley Pure Green Tea Bags, 48 count, 3.07 oz Tea and Health* Why is Tea Healthy? Bromley Teas are made from the leaves of the Camellia Sinensis bush. They are naturally loaded with healthy antioxidants called flavonoids and L-theanine an amino acid. They help the body to fight off disease and boost the bodies natural immune system. *The FDA has not approved any claims relating to tea and health Tea and a Healthy Lifestyle Recent scientific research has confirmed that tea drinking is an important part of a healthy lifestyle. Studies conducted at Major American and European Universities have concluded that drinking black or green tea may have the following potential health benefits. • Tea may protect against heart disease and stroke • Tea may help our bodies prevent cancer • Tea may help to boost your natural immune system • Tea may sharpen your mental acuity • Tea may stave off Alzheimers and Parkinson's disease • Tea can lower stress hormones • Tea can prevent cavities
Ingredients
100% Natural Green Tea;
Nutrition Facts
servings pr container
Product Number: 00072437094013
Sale Information
On Sale!
Sale price valid from 2/3/2023 until 2/9/2023
Description
Bromley Pure Green Tea Bags, 48 count, 3.07 oz Tea and Health* Why is Tea Healthy? Bromley Teas are made from the leaves of the Camellia Sinensis bush. They are naturally loaded with healthy antioxidants called flavonoids and L-theanine an amino acid. They help the body to fight off disease and boost the bodies natural immune system. *The FDA has not approved any claims relating to tea and health Tea and a Healthy Lifestyle Recent scientific research has confirmed that tea drinking is an important part of a healthy lifestyle. Studies conducted at Major American and European Universities have concluded that drinking black or green tea may have the following potential health benefits. • Tea may protect against heart disease and stroke • Tea may help our bodies prevent cancer • Tea may help to boost your natural immune system • Tea may sharpen your mental acuity • Tea may stave off Alzheimers and Parkinson's disease • Tea can lower stress hormones • Tea can prevent cavities
Product Number: 00072437094013
Ingredients
100% Natural Green Tea;
Nutrition Facts
servings pr container
Product Number: 00072437094013