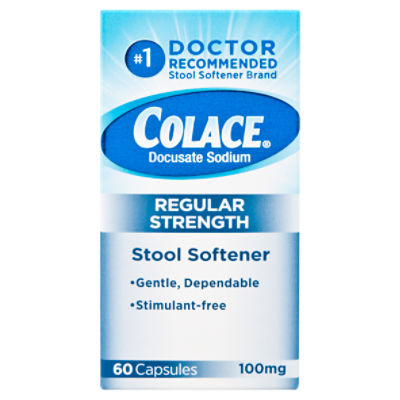 Colace Regular Strength Stool Softener 100mg, 60 Capsules
$19.89
was $24.64
$0.33 each
Sale Information
On Sale!
Sale price valid from 2/3/2023 until 2/9/2023
Description
Colace Regular Strength Stool Softener 100mg, 60 Capsules For gentle, dependable relief from occasional constipation, use Colace; Regular Strength Capsules. Most popular strength Colace product in a 60-count pack. Stimulant-free stool softener in 100mg capsules. Generally produces bowel movement in 12 to 72 hours. Drug Facts Active ingredient (in each capsule) - Purpose Docusate sodium 100 mg - Stool softener Uses ■ relieves occasional constipation (irregularity) ■ generally produces bowel movement in 12 to 72 hours
Ingredients
Inactive Ingredients: D&C Red No. 33, FD&C Blue #1, FD&C Red No. 40, FD&C Yellow No. 6, Gelatin, Glycerin, PEG 400, Propylene Glycol, Sorbitol, Titanium Dioxide;
Product Number: 00367618101605
Sale Information
On Sale!
Sale price valid from 2/3/2023 until 2/9/2023
Description
Colace Regular Strength Stool Softener 100mg, 60 Capsules For gentle, dependable relief from occasional constipation, use Colace; Regular Strength Capsules. Most popular strength Colace product in a 60-count pack. Stimulant-free stool softener in 100mg capsules. Generally produces bowel movement in 12 to 72 hours. Drug Facts Active ingredient (in each capsule) - Purpose Docusate sodium 100 mg - Stool softener Uses ■ relieves occasional constipation (irregularity) ■ generally produces bowel movement in 12 to 72 hours
Product Number: 00367618101605
Ingredients
Inactive Ingredients: D&C Red No. 33, FD&C Blue #1, FD&C Red No. 40, FD&C Yellow No. 6, Gelatin, Glycerin, PEG 400, Propylene Glycol, Sorbitol, Titanium Dioxide;
Product Number: 00367618101605