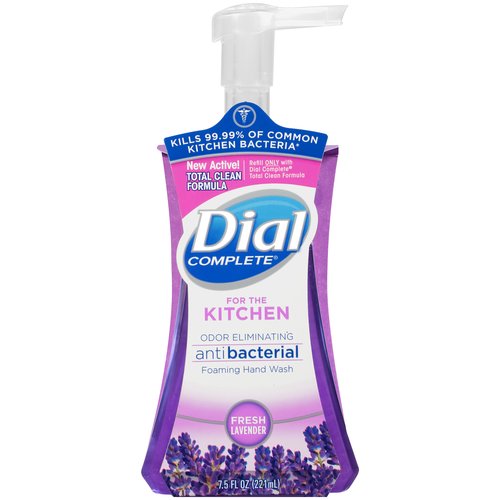 Dial Complete Fresh Lavender Antibacterial Foaming Hand Wash, 7.5 fl oz
$3.60
was $4.49
$0.48/fl oz
Sale Information
On Sale!
Sale price valid from 2/3/2023 until 2/9/2023
Description
Dial Complete Fresh Lavender Antibacterial Foaming Hand Wash, 7.5 fl oz Kills 99.99% of common kitchen bacteria* *Bacteria include E. Coli, Salmonella, Shigella, and Listeria Use For handwashing to decrease bacteria on the skin. Drug Facts Active ingredient - Purpose Benzalkonium chloride 0.13% - Antibacterial
Ingredients
Inactive Ingredients: Aqua (Water), Glycerin, Lauramine Oxide, Sunflowerseedamidopropyl Ethyldimonium Ethosulfate, Cetrimonium Chloride, Cocamidopropyl Betaine, Hydroxypropyl Methylcellulose, DMDM Hydantoin, PEG-9, Fragrance, Zinc Sulfate, Citric Acid, Sodium Chloride, Dimethyl Lauramine, Tetrasodium EDTA, Alcohol, Dimethyl Myristamine, CI 60730 (Ext. Violet 2);
Product Number: 00017000161532
Sale Information
On Sale!
Sale price valid from 2/3/2023 until 2/9/2023
Description
Dial Complete Fresh Lavender Antibacterial Foaming Hand Wash, 7.5 fl oz Kills 99.99% of common kitchen bacteria* *Bacteria include E. Coli, Salmonella, Shigella, and Listeria Use For handwashing to decrease bacteria on the skin. Drug Facts Active ingredient - Purpose Benzalkonium chloride 0.13% - Antibacterial
Product Number: 00017000161532
Ingredients
Inactive Ingredients: Aqua (Water), Glycerin, Lauramine Oxide, Sunflowerseedamidopropyl Ethyldimonium Ethosulfate, Cetrimonium Chloride, Cocamidopropyl Betaine, Hydroxypropyl Methylcellulose, DMDM Hydantoin, PEG-9, Fragrance, Zinc Sulfate, Citric Acid, Sodium Chloride, Dimethyl Lauramine, Tetrasodium EDTA, Alcohol, Dimethyl Myristamine, CI 60730 (Ext. Violet 2);
Product Number: 00017000161532