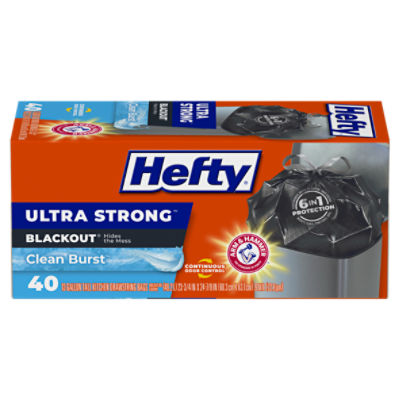 Hefty Ultra Strong Blackout Clean Burst Trash Bags
$11.64
was $12.99
$0.29 each
Sale Information
On Sale!
Sale price valid from 2/3/2023 until 2/9/2023
Description
Hefty Ultra Strong Blackout Clean Burst Trash Bags Trust Hefty Ultra Strong Tall Kitchen Blackout Trash Bags to keep your kitchen waste contained—all the way from can to curb. The black color hides unsightly messes, which means these innovative kitchen garbage bags will keep your garbage in the dark. Thanks to 6 in 1 Protection, these tough Hefty kitchen trash bags offer flexible strength, a secure-fit closure, odor control, and resistance to punctures, leaks, and tears—providing the highest protection available in flexible garbage bags. That stretchy strength means you don't have to worry about unexpected bag breakage and inconvenient messes. Don't be afraid to use these kitchen trash bags for tougher jobs, such as garage, basement and construction cleanup. A break-resistant grip drawstring makes it easy to close the bag and cart it away without incident. As a bonus, these scented trash bags include patented Arm & Hammer continuous odor control and Clean Burst scent to keep unpleasant smells at bay. *The ARM & HAMMER trademark is owned by Church & Dwight Co., Inc., and used by Reynolds Consumer Products LLC under license. Blackout® hides the mess 6 in 1 Protection 1. Flex strength 2. Secure-fit closure 3. Odor control 4. Resists leaks 5. Resists punctures 6. Resists rips
Product Number: 00013700016554
Sale Information
On Sale!
Sale price valid from 2/3/2023 until 2/9/2023
Description
Hefty Ultra Strong Blackout Clean Burst Trash Bags Trust Hefty Ultra Strong Tall Kitchen Blackout Trash Bags to keep your kitchen waste contained—all the way from can to curb. The black color hides unsightly messes, which means these innovative kitchen garbage bags will keep your garbage in the dark. Thanks to 6 in 1 Protection, these tough Hefty kitchen trash bags offer flexible strength, a secure-fit closure, odor control, and resistance to punctures, leaks, and tears—providing the highest protection available in flexible garbage bags. That stretchy strength means you don't have to worry about unexpected bag breakage and inconvenient messes. Don't be afraid to use these kitchen trash bags for tougher jobs, such as garage, basement and construction cleanup. A break-resistant grip drawstring makes it easy to close the bag and cart it away without incident. As a bonus, these scented trash bags include patented Arm & Hammer continuous odor control and Clean Burst scent to keep unpleasant smells at bay. *The ARM & HAMMER trademark is owned by Church & Dwight Co., Inc., and used by Reynolds Consumer Products LLC under license. Blackout® hides the mess 6 in 1 Protection 1. Flex strength 2. Secure-fit closure 3. Odor control 4. Resists leaks 5. Resists punctures 6. Resists rips
Product Number: 00013700016554
Product Number: 00013700016554