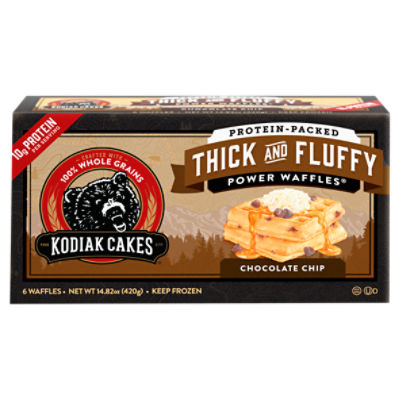 Kodiak Cakes Thick & Fluffy Chocolate Chip, Toaster Waffles, 6 Each
Sale Information
On Sale!
Sales price valid from 9/30/2022 until 10/6/2022
Description
Kodiak Thick & Fluffy Toaster Waffles Chocolate Chip, 6ct, 14.82oz Power Waffles® Restoring the Real Food Tradition For the extra hungry chocolate lover in your life there's Kodiak Cakes Chocolate Chip Thick & Fluffy Power Waffles®. Whether you've got one foot out the door in the morning or need a filling option for a mid-day snack these waffles are quick and easy to prepare. Not to mention, they're made with 100% whole grains and boast 10 grams of protein. Rich, delicious, fluffy, and filling - they're hard to pass up. Whole Grains Taste Better®
Ingredients
Water; 100% Whole Grain Wheat Flour; Canola Oil; 100% Whole Grain Oat Flour; Sugar; Semi-Sweet Chocolate Chips (Sugar, Unsweetened Chocolate, Cocoa Butter, Soy Lecithin); Whey Protein Concentrate; Wheat Protein Isolate; Sunflower Lecithin; Wheat Gluten; Egg Whites; Buttermilk; Whey Protein Isolate; Leavening (Sodium Acid Pyrophosphate, Sodium Bicarbonate); Guar Gum; Molasses; Salt; Natural Flavors;
Product Number: 00705599015137
Sale Information
On Sale!
Sales price valid from 9/30/2022 until 10/6/2022
Description
Kodiak Thick & Fluffy Toaster Waffles Chocolate Chip, 6ct, 14.82oz Power Waffles® Restoring the Real Food Tradition For the extra hungry chocolate lover in your life there's Kodiak Cakes Chocolate Chip Thick & Fluffy Power Waffles®. Whether you've got one foot out the door in the morning or need a filling option for a mid-day snack these waffles are quick and easy to prepare. Not to mention, they're made with 100% whole grains and boast 10 grams of protein. Rich, delicious, fluffy, and filling - they're hard to pass up. Whole Grains Taste Better®
Product Number: 00705599015137
Ingredients
Water; 100% Whole Grain Wheat Flour; Canola Oil; 100% Whole Grain Oat Flour; Sugar; Semi-Sweet Chocolate Chips (Sugar, Unsweetened Chocolate, Cocoa Butter, Soy Lecithin); Whey Protein Concentrate; Wheat Protein Isolate; Sunflower Lecithin; Wheat Gluten; Egg Whites; Buttermilk; Whey Protein Isolate; Leavening (Sodium Acid Pyrophosphate, Sodium Bicarbonate); Guar Gum; Molasses; Salt; Natural Flavors;
Product Number: 00705599015137