All campaign items
2 items
Dove Men+Care Body Soap and Face Bar Clean Comfort 3.75 oz, 6 Bars, $13.99
Dove Men+Care Body Soap and Face Bar Clean Comfort 3.75 oz, 6 Bars Looking for a men's bar soap that will thoroughly clean your skin and leave it feeling hydrated, cool, and comfortable? Treat your skin every day with the mild but effective formula of Dove MenplusCare Clean Comfort Body and Face Bar. More than just a regular men's bar soap, this bar from the #1 Dermatologist Recommended Men's Brand has a formula that cleanses your skin and delivers refreshment and skin comfort. This body bar is part of the Dove Clean Comfort range and unlike regular bar soap for men which can dry your skin out, the Dove MenplusCare bar contains 1/4 moisturizing cream that helps maintain skin's hydration and moisture levels, while also delivering a refreshing clean. Dove MenplusCare understands the importance of having a simple daily routine for caring for your skin. This Dove Clean Comfort Body and Face Bar is noncomedogenic and can be used across your whole body to gently clean skin and is even mild enough for use on your face. In the shower, simply wet the Dove MenplusCare bar and rub it between your hands to produce a light foam lather before working it over your skin and rinsing thoroughly. The creamy foam rinses away easily and the non-greasy foaming lather will provide a comfortable, refreshing clean.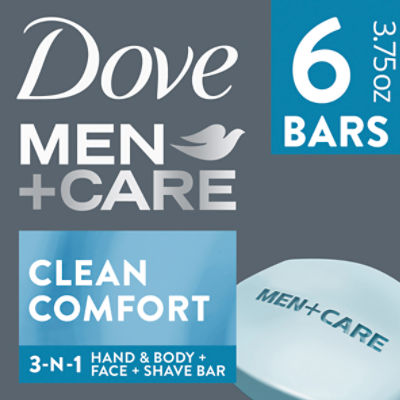 Dove Men+Care Body Soap and Face Bar Clean Comfort 3.75 oz, 6 Bars
Open Product Description
Dove Body Wash Glowing Mango & Almond Butter 20 oz, $10.99
Dove Glowing Mango & Almond Butter Body Wash, 20 fl oznNourish your skin and uplift your senses with Dove Glowing Body Wash. This nourishing body wash, with 24hr Renewing MicroMoisture, gently cleanses and nourishes the skin, leaving it renewed and healthy-looking for 24 hours. From the #1 dermatologist-recommended body wash brand, this nourishing body wash has a luxurious lather you'll love to use in the shower after a long day. Dove Glowing Body Wash has been developed with millions of MicroMoisture droplets and plant-based moisturizers, creating a formula that works to gently cleanse and moisturize skin and nourish your microbiome - skin's living protective layer. Infused with mango and almond butters, this nourishing body wash also uplifts your senses. As a specially designed body wash for soft skin, your skin will feel as soft as it looks. This nourishing body wash also has a 98% biodegradable formula*. *98% of ingredients break down into carbon dioxide, water and minerals (OECD test methods 301, 302 and/or 310). This gentle skin cleanser is packaged in 100% recycled plastic bottles, vegan, and Dove is PETA approved, meaning we do not test on animals, anywhere in the world, so you can feel good about switching to Dove. Plus, this hydrating body wash is made without sulfates or parabens. How to use: For 24 hours of radiant skin, squeeze a generous amount of Dove Glowing Body Wash into your palms. Massage the body wash onto your skin, taking a moment to enjoy the rich lather and indulgent fragrance, before rinsing off to reveal soft, smooth skin. Dove care goes further than moisturizing skin care with 100% recycled plastic bottles and globally, Dove is PETA approved. At Dove, our vision is of a world where beauty is a source of confidence, and not anxiety. So, we are on a mission to help the next generation of women develop a positive relationship with the way they look-reaching over ¼ of a billion young people with self-esteem education by 2030. We are also committed to a landmark new initiative as part of our 2025 commitment to reduce plastic waste; reducing over 20,500 metric tons of virgin plastic annually by making the iconic beauty bar packaging plastic-free globally; launching new 100% recycled plastic bottles; and trialing a new refillable deodorant format that reduces plastic use over time. As one of the largest beauty brands in the world, we are revealing an agenda-setting commitment to tackle the global beauty industry's plastic waste issue.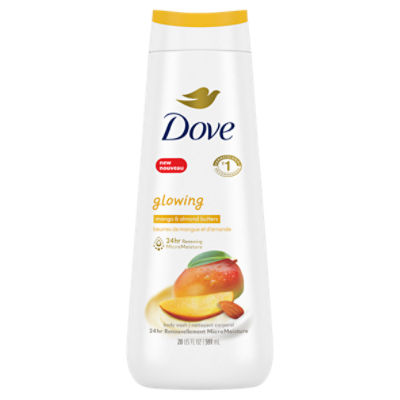 Dove Body Wash Glowing Mango & Almond Butter 20 oz
Open Product Description
Offer Valid Until: Jun 8th