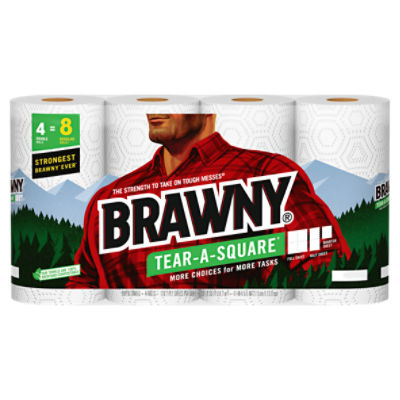 Brawny 4D 120/6/4 WH CS TAS, TWL, 48 Each
$12.99
was $14.49
$0.27 each
Sale Information
On Sale!
Sales price valid from 12/4/2022 until 12/10/2022
Description
BRNY TWL 4D 120/6/4 WH CS TAS Brawny® Tear-A-Square® paper towels with quarter (1/4) sheets offers three sheet size options so you can use just what you need. With the option of a quarter sheet, half sheet, or full sheet on each Brawny® Tear-A-Square® paper towel roll, you can choose the right paper towel sheet size to suit your needs. Like all other Brawny® paper towel products, Brawny® Tear-A-Square® 2-ply premium white paper towels are strong, durable, and absorbent. Use the quarter sheet size for small spills and quick clean-ups, to place snacks, as a napkin or a coaster. Brawny® Tear-A-Square® paper towels - the strength of Brawny® for messes big, small and anywhere in between. 4 Double Rolls = 8 Regular Rolls* *Based on Brawny® Regular Roll with 60 Sheets Strongest Brawny® Ever** **When Wet vs. All Previous 2-Ply Brawny® Paper Towels The Strength to Take on Tough Messes®
Product Number: 00042000443562
Sale Information
On Sale!
Sales price valid from 12/4/2022 until 12/10/2022
Description
BRNY TWL 4D 120/6/4 WH CS TAS Brawny® Tear-A-Square® paper towels with quarter (1/4) sheets offers three sheet size options so you can use just what you need. With the option of a quarter sheet, half sheet, or full sheet on each Brawny® Tear-A-Square® paper towel roll, you can choose the right paper towel sheet size to suit your needs. Like all other Brawny® paper towel products, Brawny® Tear-A-Square® 2-ply premium white paper towels are strong, durable, and absorbent. Use the quarter sheet size for small spills and quick clean-ups, to place snacks, as a napkin or a coaster. Brawny® Tear-A-Square® paper towels - the strength of Brawny® for messes big, small and anywhere in between. 4 Double Rolls = 8 Regular Rolls* *Based on Brawny® Regular Roll with 60 Sheets Strongest Brawny® Ever** **When Wet vs. All Previous 2-Ply Brawny® Paper Towels The Strength to Take on Tough Messes®
Product Number: 00042000443562
Product Number: 00042000443562